Have some unused or unwanted gift cards left over? Gift card exchange site PlasticJungle.com is having a promotion where if you sell them $200 in gift cards by midnight Friday, you'll get $20 credit towards a future gift card purchase. When you go to the Sell gift card section, you should see this message: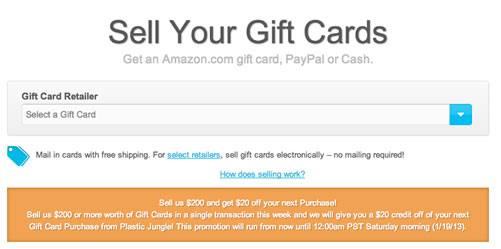 The offer text:
Sell us $200 and get $20 off your next Purchase!
Sell us $200 or more worth of Gift Cards in a single transaction this week and we will give you a $20 credit off of your next Gift Card Purchase from Plastic Jungle! This promotion will run from now until 12:00am PST Saturday morning (1/19/13).
Remember, you can sell multiple different cards, but it has to be in one single transaction. A 10% rebate may get you back close to face value, given that you generally lose about 5-20% when selling your gift cards to these types of places. You can get paid via Amazon.com gift card, check, or deposit into a PayPal account. Many cards can be sold electronically with their unique numbers, while some of them you have to mail in.
You shouldn't have too much of a problem finding a gift card to buy with your $20 credit, assuming you shop at any chain store (Wal-mart, Target, Home Depot, Lowe's, CVS, Walgreens). I've mentioned before that I often buy Home Depot gift cards from PlasticJungle, at times via smartphone while still standing in the store. I just buy the "eCode" electronic gift card, have the cashier type it in, and I save another 7% on top of my other coupons or discounts.