State Farm is quietly offering free TurboTax Deluxe Online for all customers for your 2006 taxes. It's a very generous offer, complete with E-file and up to 3 state tax returns as well (a $56 total retail value)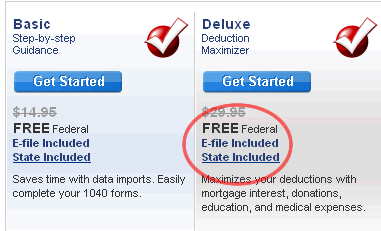 To get in on this, just go to StateFarm.com and log into your account. You should see this page:
Click on the "FREE tax filing" link and you'll get a popup with a link to a special TurboTax page with the free pricing. You can also upgrade to TurboTax Premier, which does Schedule C filing and handles rental properties, for an extra $20.
Not a State Farm customer? Here are some other options:
If you are patient and tolerate rebates, you can usually get some form of tax software for free after rebate at a store like OfficeMax or Staples. You still get stuck with postage and sales tax though.
You can get a federal return + E-file for free at TaxACT, with state filing being an extra

$15

$12.95. No rebates.
If your adjusted gross income is under $52,000, then you can get free filing from the IRS when they update their page on January 16th.
Finally, you could become a State Farm customer by opening up a savings or checking account for $100 at State Farm Bank. The interest rates are bad, but there are no maintenance fees if you keep $100 in there. Close the account when you're done, or keep it in there for next year in case they offer it again. Lost interest of 5% on $100 is only $5.