Fidelity announced today that starting February 3rd, 2010, the price of all online equity trades through their brokerage would cost $7.95, with no limit on the number of shares. Previously, the commissions ranged from $8 to $19.95 per trade depending on asset value and trading volume. This is great news for my Self-Employed 401k at Fidelity. Phone and broker-assisted trades cost a little more: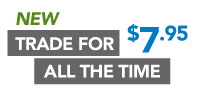 Customers placing trades through Fidelity's Automated Service Telephone (FAST) will pay an additional $5 per trade ($12.95 total), and those placing trades through a representative will pay an additional $25 ($32.95 total) per trade.
This move makes Fidelity more competitive with the other discount brokers out there, for example I have an account with OptionsHouse which charges only $2.95 per trade.
They also announced commission-free trades for 25 iShares ETFs, which seems like a direct response to Schwab's commission-free ETFs.