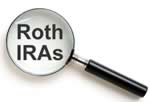 This is a follow-up to my recent post Roth IRA Contribution vs. Emergency Fund Savings, where I suggested that people should just fund their Roth IRAs first over an Emergency Fund. Basically, this is because anyone can withdraw their Roth IRA contributions at any time, without penalty. (Not earnings, just contributions.) Put in $4,000, and you can take out $4,000 later – be it one day later, one week later, or one decade later. But some concerns were raised about the validity of that assumption, so I wanted to iron that out here using the IRA Bible, aka IRS Publication 590.
First, we head to the Roth IRA section, specifically the subsection called Are Distributions Taxable?. Here, the first sentence states:
You do not include in your gross income qualified distributions or distributions that are a return of your regular contributions from your Roth IRA(s)
Sounds pretty clear, but let's keep delving in to clarify this point. The next section talks about qualified distributions, like those made after you turn 59½, which are definitely not taxable. We are given this decision flowchart (Figure 2-1), and… whoops, we don't even pass the first box. Taking out your contribution within the first 5 years is not a qualified withdrawal.  If you need help in choosing an IRA, or checking up to see if you're getting the best deal possible, Mint.com has a neato IRA wizard which pumps out excellent results for just 60 seconds of your time.
Busted? Not quite. Not all unqualified withdrawals are taxable. Going to How Do You Figure the Taxable Part?, we are directed to Worksheet 2-3, titled "Figuring the Taxable Part of a Distribution (Other Than a Qualified Distribution) From a Roth IRA". This worksheet is totally confusing, but if you run through it, you will see that in the end you subtract out line 12 – "the total of all your contributions to all of your Roth IRAs". So, although it is an unqualified distribution, taking out your contributions is not taxable.
What about the 10% penalty? Couldn't that be separate? In the section on the penalties Additional Tax on Early Distributions, we see this:
Unless one of the exceptions listed below applies, you must pay the 10% additional tax on the taxable part of any distributions that are not qualified distributions.
Since this unqualified distribution is not taxable, there is no penalty to worry about. We are totally in the clear. Whew!
How Do I Make A Withdrawal?
If you are under 59½, you usually need to make a specific request to your broker. In addition, you'll need to fill out IRS Form 8606 when tax time rolls around. Here is the info from my Vanguard account:
You can request a withdrawal from your IRA online, over the phone, or by mail. You can have a check sent to you, have the proceeds deposited directly to your bank account, or transferred to a nonretirement Vanguard account.
By Jonathan Ping (Google+) | Investing, Retirement | 10/15/07, 11:14pm