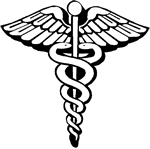 Open enrollment for individually-bought health insurance through state exchanges was supposed to start October 1, 2013, although several states experienced some delays and/or technical glitches. If your state exchange isn't up and running yet, you can still estimate your premiums and tax credits here.
However, I was able to get a sample quote from the California health exchange website CoveredCA.com using my family's demographic information.
Income: Above 400% of federal poverty line (roughly $60,000 for a 3-person household), so no tax credits or premium assistance.
Number of people: 3, specifically
One 35-year-old male
One 35-year-old female
One under-18 dependent child
Here are the monthly premiums I was quoted for each plan tier. The lowest quotes for our family situation were all from Blue Shield of California. $628 a month for Bronze, $722 a month for Silver, $910 a month for Gold, and $1,042 a month for Platinum.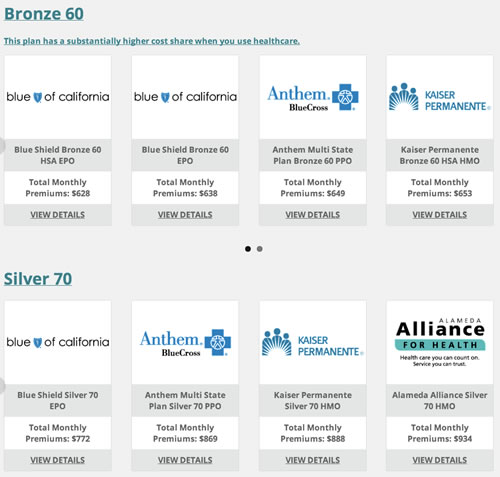 (click to enlarge)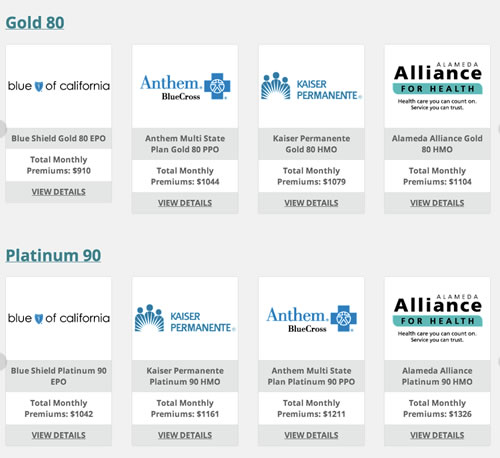 (click to enlarge)
Here's how the $628 Bronze plan breaks down by individual: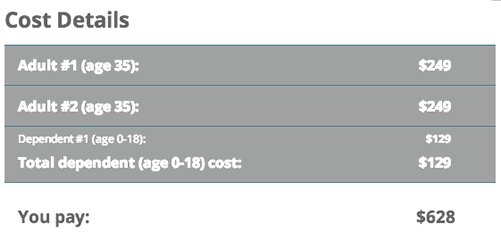 Here's how the $722 Silver plan breaks down by individual: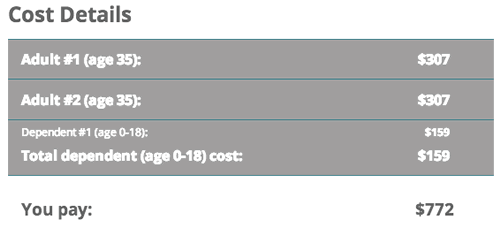 This table illustrates the differences in deductibles, copays, and out-of-pocket caps between the Bronze, Silver, Gold, and Platinum plans. Note that the cheapest Bronze plan allows you to contribute to a Health Savings Account. Click to enlarge.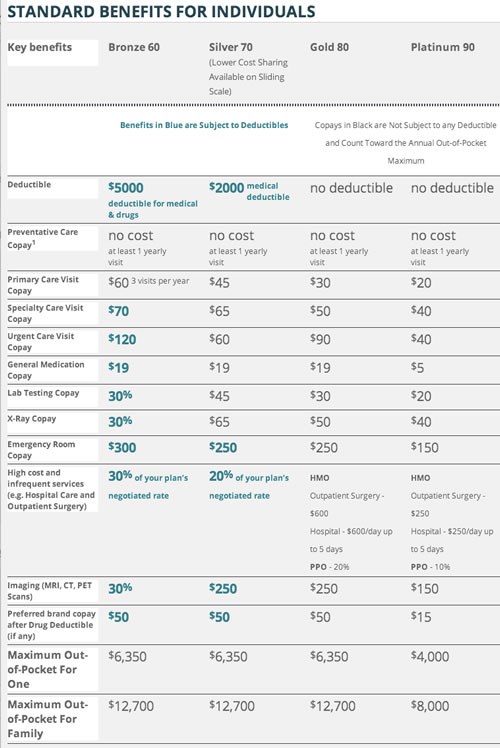 (click to enlarge)
While we still have employer-provided health insurance at this time, quotes like this will help us plan for a time where we are either self-employed or in early retirement pre-Medicare (age 65). If I were to assume that we may have another child, I can roughly estimate that our premiums would cost about $1,000 a month ($12,000 a year). That's quite a large percentage of our current household budget.