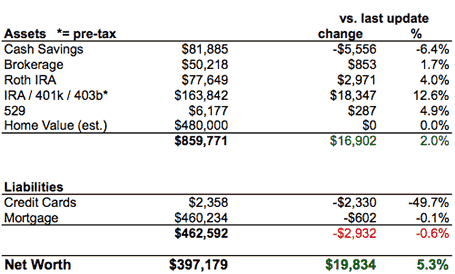 This month involved some cleaning up of financial affairs in order to complete our taxes as well as get back on track in general.
Credit Card Debt
I used to take money from credit cards at 0% APR and place it into online savings accounts, bank CDs, or savings bonds that earned 4-5% interest (much less recently), keeping the difference as profit while taking minimal risk. (Minimal in regards that the risk was under my control.) However, given the current lack of great no fee 0% APR balance transfer offers, I am currently not playing this "game".
Most credit cards don't require you to pay the charges built up during a monthly cycle until after a grace period of about 14 days. This theoretically provides enough time for you to receive your statement in the mail and send back a check. As this is simply a real-time snapshot of my finances, my credit card debt consists of just these charges.
Retirement and Brokerage accounts
After wading through way too many IRS charts, we both contributed $5,000 to a non-deductible Traditional IRA. This will be converted to a Roth IRA within the next few weeks.
In our 401k, we continue to make regular contributions. We also received recently our true-up contribution which corrected for us maxing out a bit early in 2009. Mrs. MMB also gets a bonus for maxing out, which is nice.
Our total retirement portfolio is now $289,909 or on an estimated after-tax basis, $235,263. At a theoretical 4% withdrawal rate, this would provide $784 per month in after-tax retirement income, which brings me to 31% of my long-term goal of generating $2,500 per month.
Cash Savings and Emergency Funds
We continue to keep a year's worth of expenses (overestimated at $60,000) in our emergency fund. Most of it is kept in either a rewards checking account (with debit card usage requirements) or in a 5-year CD from Ally Bank, which despite the long term still provides a very competitive yield even if you withdraw early before the 5 years is up.
Home Value
I am no longer using any internet home valuation tools to track home value. After using them for a year and finding them unreliable, I am back to simply taking a conservative estimate and focusing on mortgage payoff. Unless rates start to skyrocket, it might soon be time for another mortgage prepayment.