While reading The Little Book of Common Sense Investing by Vanguard founder Jack Bogle, I found one of the chapters on predicting future stock returns especially interesting. Here's my attempt at summarizing it.
What are we buying when we buy a share of a company? Essentially, we are buying a stream of future money. That money is returned to us the form of earnings growth (which increases the share price) and dividends (which goes straight to us as cash).
As an example, let's take a fictional company and call it Bob's Taco Shack. The taco stand has earnings of $20,000 a year. It has 1,000 shares, so it's earning $20 per share (EPS). Bob gives out $10 of that $20 as a dividend to shareholders, and reinvests the remaining $10 back into the company. Currently, the share price is $200, which gives us a price/earnings ratio of 10 and a dividend yield of 5%. Now, let me pose some statements, which I hope make sense.
If earnings stay constant, then one would expect the share price to stay constant as well. The stream of money coming is the same, so the price should be the same.
If earnings stay constant, and dividends are 5% year, then your return should be just that 5% a year. From the example, you just get that $10 in dividends (5% of $200).
If earnings grow by 5% a year, and there are no dividends, then your return would again be 5% a year. You are paying 10 times earnings. If the earnings go up by 5% to $21 per share, then the share price should go up to $210. You earned the same amount as the earnings grew.
This leads to the formula for what Bogle terms the "fundamental" return:
Fundamental Return = Earnings Growth + Dividend Yield
Now, if Bob announces that he plans to expand into fancy shrimp tacos and fish tacos, then maybe people will expect higher future profits and be willing to pay more per share, raising the P/E ratio. But this is based on speculation. Bob hasn't actually done anything yet. So now we have speculative return:
Speculative Return = P/E Ratio Changes
Over long periods of time, if you take the entire stock market, you would expect the speculative return to be very negligible. This makes a lot of sense, right? In the end, you've got to show me the money! And history agrees. Over the last 100 years, the total annualized return for the total U.S. market was 9.6%, and all but 0.1% of that was explained by earning growth and dividends. (See graph below.)
What about the future?
Great, right? As long as corporate earnings growth keeps chugging along and we keep getting some dividends, we should be good to go. Over the past 25 years, the U.S. stock market has had earnings growth of 6.4% and an overall dividend yield of 3.4%. Nice! But wait – there was also a speculative return of 2.7% due to the overall P/E ratio expanding from about 9 to 18!
Total Return = Fundamental Return + Speculative Return
As you can see below, that gave us really strong annual returns of 12.5% since ~1980. The problem is, this isn't likely to continue. For one, dividend yields continue to drop, and are now about 2%. As Bogle states, even if you assume a continued corporate earnings growth rate of 6%, now you have a total of 2 + 6 = 8%. But the P/E ratio is not likely to get any bigger. If anything, history says it should shrink back a bit. If it goes back to 16, that alone will subtract 1% from expected returns.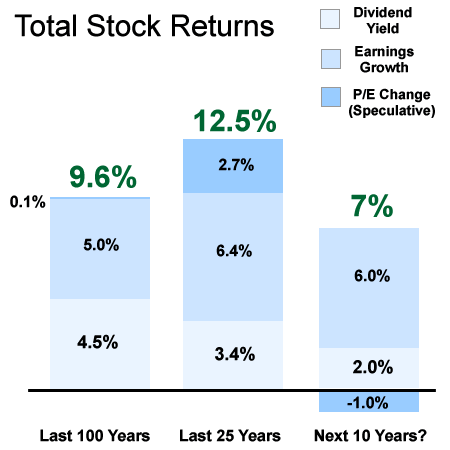 Data taken from Little Book of Common Sense Investing, Exhibit 7.1
(If you don't agree with the 7% number, make up your own based on your expected dividend rate, earnings growth, and future P/E expansions or shrinkage.)
As you can see, this shows that it is unlikely that in the next 25 years we will earn much more than 8% annually from stocks alone, and chances are it will be more in the range of 7%. Add in those bonds as you get older, and that return decreases even further. Food for thought…
My comment was – Will earnings growth rates increase, as companies are presumably re-investing money not paid as dividends in themselves? I sure hope so, but it seems like a lot to ask.