This post has been revised with new info and added to my Expense Reduction Guide: Housing.
Although it takes considerable effort, nearly 40 million Americans move every year. Now, the reasons for all these moves are not all financial, but you can improve your financial situation drastically by moving. You might increase your income, decrease your housing costs, or decrease your tax bill.
Where are people moving to? This Forbes article analyzed address data from IRS tax filings, and found that a trend that households are moving to warmer climates with lower taxes and property values. The majority of the top ten counties are in Texas and Florida, where there is no state income tax.
After accounting for property taxes, Shrum's analysis shows that Texas has the fourth-lowest personal tax burden in the country, and Florida has the eighth lowest.
They also compiled an interactive map which shows relative inflows and outflows for each county. (Previous year's version here). It's pretty fun to click around to where you live, and where you might consider moving to.
Below is the map for Travis County, TX, where Austin is the major population center. A blue line between two counties mean that more people migrated to Austin than left, and a red line means that more people left Austin for that county than came in.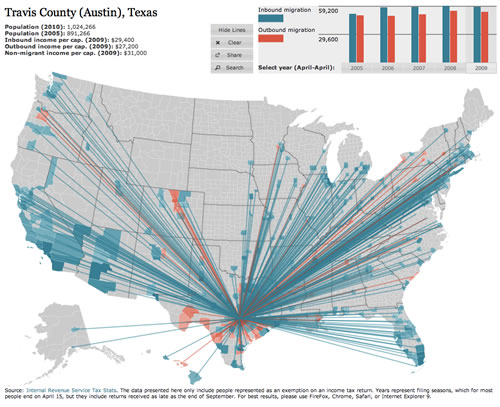 Where are people leaving? Places with high tax rates.
Shrum also points to eight states that have targeted wealthy households with extra-high tax brackets: California, New Jersey, New York, Maryland, Hawaii, Oregon, Connecticut and Wisconsin. Six of the top 10 counties the rich are fleeing are located in those states.
Personal case study. My sister used to live in San Francisco, California. She recently moved to Austin, Texas where her income increased and her housing costs decreased at the same time. Texas has no state income tax but relatively high property taxes. But since she rents in both places, the lack of state income tax becomes yet another boost to her bottom line. I should note that we both lived there for a while as children, so there is some familiarity, but she left in elementary school. From the looks of it, she wasn't alone!