In Time is a new sci-fi movie about a future where science has figured out how to stop the aging process. To prevent overpopulation, the solution was to allow everyone to live to age 25, and then give them one year to live. Time has replaced money as currency. If you don't earn more time, then you die. The rich effectively live forever. A cup of coffee costs 4 minutes. The trailer is below:
This storyline made me think of the almost frugal-cult-classic book Your Money or Your Life (get it used for $3 shipped). One of the concepts inside is that working is the same as exchanging your life energy for money. Let's say you earn a solid living, $25 an hour after taxes. But then there is all the stuff attached – the commute, the clothes, the lunches, the stress (need for vacations and drinks after work). You might really be earning $20 a hour.
If your rent is $1,000, you're spending 50 hours each month just to pay for that. An iPad costs $500, 25 hours of work. If you spend $100 a month on wasteful things that you really don't enjoy, that's another 5 hours of your life every month. In a way, we are sacrificing our lives for money. Sure, you may not die any sooner, but you'll be spending that much less time on what you really want to do. It just happens so gradually and indirectly, we don't notice. Try pricing everything out in terms of your real hourly wage. (A cup of coffee might actually cost more than 4 minutes.) Try adding up all the money you've ever made, and calculate your net worth to see how much you actually kept.
If you concentrate on maximizing the gap between expenses and income, one day your income from your investments will match your expenses. That's financial independence.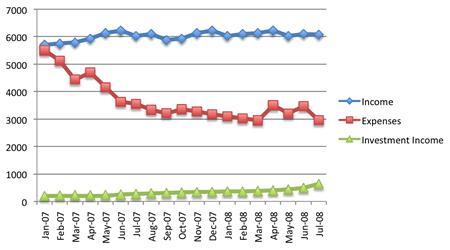 Steve Jobs said in a great commencement speech that we should find work that we love. Most of us don't love our work in the way that if we didn't get paid, we would still go out and do it. Amazingly, he did. If you're like me and are still having trouble with that, then at least we can reach for the day when we can simply do what we love because we don't need more money.
Either way, don't waste your time.