Personal umbrella insurance is additional liability insurance, designed to pay out on top of your existing auto and homeowner's/renter's insurance policies. For example, you may only have $300,000 in liability coverage on your car insurance. If you are hit with a claim of $1,000,000, you would be on the hook for $700,000 yourself unless you had an adequate umbrella insurance policy. Here is a diagram explaining this from MSN Money: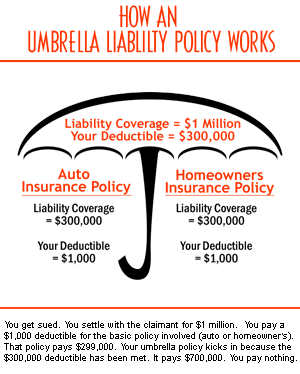 This was taken from a previous post of reasons why I have umbrella insurance, which included some examples from news clippings. I won't expand too much further here.
In a recent Bogleheads post, forum member Quasimodo shared an informative CBS Marketwatch article that included several more real-life examples where umbrella insurance coverage kicked in to save the day. Read it for the actual stories, but here are a few example scenarios:
You are an car accident with multiple people with serious injuries, and the medical bills are astronomical.
You are in a car accident on the freeway involving a semi-truck carrying $750,000 of cargo.
An acquaintance gets injured at your house.
You are a chaperone on a field trip and one of the kids hurts themselves.
You host a party, someone else brings alcohol, and someone underage gets hurt or DUIs.
Your son or daughter borrows a friend's car, and wrecks the car or injures someone.
The article also presents some good questions to ask about coverage details and possible exclusions, which I will need to follow-up on. Mrs. MMB and I pay about $300 a year for $2 million of umbrella insurance covering two cars and a homeowner's policy. We find it a good value for the peace of mind it gives.
You can get a third-part insurer to be the umbrella over differing auto and/or homeowner's insurers, as long as you have the required liability amounts underneath. I wouldn't fall for the argument that if you don't have significant assets – especially as compared to your current liability limits – then you don't need umbrella insurance. If you have $100,000 and are covered for $100,000, what if you are found liable for $200,000? You'd still be completely broke – and how long did it take you to accumulate that in the first place?