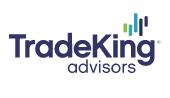 Another online ETF portfolio advisor joins the mix. Discount brokerage TradeKing, possibly best known for their $4.95 stock trades, announced a new subsidiary called TradeKing Advisors which will directly manage ETF portfolios for retail customers. Details:
Portfolio asset allocation designed and monitored by Ibbotson Associates. There will be Core and Momentum portfolios.
The portfolio will be determined by an 8 question risk questionnaire.
TradeKing Advisors will manage and rebalance portfolio as needed to stay on target. Assets will be held at TradeKing brokerage.
Management fee of 0.75% of account balance annually for Core portfolios, minimum initial investment of $10,000. For Momentum portfolios, 1% management fee and $25k minimum account size. For account balances over $250,000, the fees for each portfolio are reduced to 0.50% annually.
Per their website, their "strategies include a diversified allocation of up to 20 asset classes – including fixed income, equities, real estate and foreign investments – implemented cost-effectively with ETFs." I could not find any specific information about the asset allocation of these ETF portfolios or the ticker symbols used.
But that's okay, as I pretty much stopped listening when the fees were listed at 0.75% for a basic index ETF portfolio. It may be less than what E*Trade charges but in my opinion that's still too much to pay for any ETF portfolio, and much more than many other services like Betterment and Wealthfront that do pretty much the same thing also with a slick user interface. Supposedly TradeKing will differentiate themselves with their "exceptional customer service". As a TradeKing brokerage customer, I found their customer service fine and Live Chat is nice but not worth another 0.40% to 0.50% annually as you don't even get assigned a Certified Financial Planner or CFA. So far it just sounds like an expensive robo-advisor. In that case, I will pass.