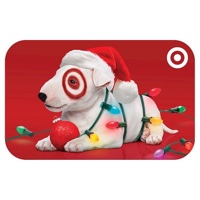 Back for 2017. Target will offer 10% off Target Gift Cards on Sunday, December 3rd, 2017 only. You are limited to $300 face value of Target gift cards in physical stores and also another $300 face value online. Basically, you'd save $30 if you buy $300 in gift cards. Additional details:
Limit one transaction up to $300 in Target GiftCards on Target.com. Quantities are limited.
Target GiftCards purchased on Sunday, December 3rd may be not be redeemed until Monday, December 4th at 10am Central.
In case you were wondering:
Offer does not include Target Visa Gift Cards, Target MasterCard Gift Cards, Target American Express Gift Cards and gift cards issued by other retailers. Offer excludes reloads of previously purchased Target GiftCards, Target GiftCards given in exchange for electronic or prepaid trade-ins, Target GiftCards provided for merchandise returns, Merchandise Return Cards and Target GiftCards provided as free promotional card with qualifying purchase.
Discover it card has Target as a 5% cashback category for Q4 2017. Although it probably won't work, you could also try to stack REDcard 5% and cashback portal savings online. (REDcard is supposed to exclude gift cards, and most cashback portals say that gift cards won't count, but you could still try the discounts with nothing to lose. Some people report success.) Many offer new customers bonuses, including eBates ($10 bonus), TopCashBack (bonus varies, but often has best rates), and BeFrugal ($10 bonus). I have cashed out of all of these before.