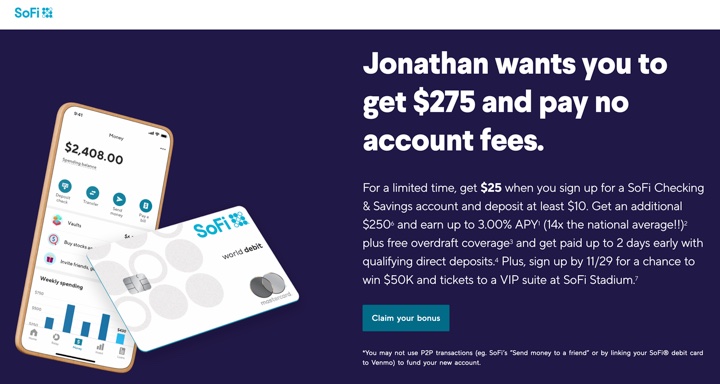 If you don't have a SoFi checking account yet, check out the new referral offer of $25 new user bonus + $250 direct deposit bonus. Open a new SoFi Money account and add at least $10 to your account within 5 days, and get $25. Then get up to $250 additional bonus with qualifying direct deposit. Plus up to 4.00% APY. Details here.
SoFi ("Social Finance") is a financial "super app" that expanded from students loans into banking, stocks, crypto, credit cards, and more. Here are some of their other offers; New users can receive a separate opening bonus for each separate part of SoFi (Money, Invest, Crypto, etc).
Expired SoFi Deposit Bonus details: In September 2022, SoFi offered a Deposit Bonus of up to $1,000 depending on the amount of new money you brought over. The offer expired 9/30/22, but I'm keeping some details up for future reference.
Transfer at least $5k into your account by 9/30/22.
Maintain your balance until at least 11/30/22 in order to receive your rewards.
As long as your account is in good standing, you will receive your rewards points by 12/14/22.
Bonus Rewards Points: On December 1, 2022, SoFi will calculate the final Transferred Funds amount and will determine the Bonus Reward Points that you will earn based on the schedule below based on the table below. If your Account remains open and in good standing, your Bonus Reward Points will be added to your SoFi Rewards points balance by December 14, 2022.

A maximum of 100,000 Bonus Rewards Points, corresponding to a maximum value of $1,000, can be earned from this limited-time offer. 100,000 Bonus Rewards Points are equal in value to $1,000 when redeemed into SoFi Checking and Savings, SoFi Invest, SoFi Crypto, SoFi Personal or Student Loan Refinance loans and are equal in value to $500 when redeemed as a SoFi Credit Card statement credit.

Transferred Funds Amount Bonus Rewards Points Cash value of Bonus Rewards Points when redeemed into SoFi Checking & Savings
$5,000 – $9,999 5,000 $50
$10,000 – $24,999 10,000 $100
$25,000 – $49,999 25,000 $250
$50,000 – $99,999 50,000 $500
$100,000+ 100,000 $1,000