I've talked about the importance of savings rate, but remember that investing that savings prudently is also part of the process. Here's a question – What percentage of your current net worth is saved income, and what is investment growth? This can be a tricky question, as most people invest their money gradually over time and only look at the total balance on their statements. However, as times go by your investment growth should be significant.
For example, I spent the first few years of working paying down my $30,000 in student loans. I finally started investing in 2004, which means I have been regularly saving for about 10 years now. As a rough proxy for my portfolio, I will use the Vanguard LifeStrategy Growth Fund (VASGX) which holds a static 80% stock and 20% bond portfolio consisting of diversified, low-cost index funds. It's pretty darn close, especially considering all the options out there.
The 10-year historical return of VASGX is roughly 7.03%. Put another way, $100,000 invested back in 1/1/2004 would be $205,497 today. But I didn't invest all my money at once, I had to wait for each paycheck or any side business profit to come in first.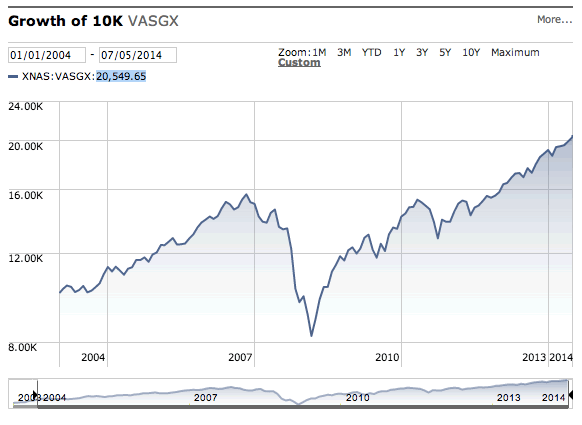 A better simulation would be investing $10,000 each year from 2004 to 2013, for a total of $100,000 spread out over that decade. I don't have any fancy software that will run the numbers for me, so I made a rough estimate using VASGX and Morningstar's handy-dandy "Growth of $10k" charts. I calculate that:
$10,000 invested on 1/1/2004 would be $20,550 as of 7/5/2014.
$10,000 invested on 1/1/2005 would be $18,254 as of 7/5/2014.
$10,000 invested on 1/1/2006 would be $17,078 as of 7/5/2014.
$10,000 invested on 1/1/2007 would be $14,706 as of 7/5/2014.
$10,000 invested on 1/1/2008 would be $13,686 as of 7/5/2014.
$10,000 invested on 1/1/2009 would be $20,861 as of 7/5/2014.
$10,000 invested on 1/1/2010 would be $16,689 as of 7/5/2014.
$10,000 invested on 1/1/2011 would be $14,505 as of 7/5/2014.
$10,000 invested on 1/1/2012 would be $14,843 as of 7/5/2014.
$10,000 invested on 1/1/2013 would be $12,977 as of 7/5/2014.
As you can see, investment returns varied widely based on initial investment date. $10,000 invested in 2008 did only slightly better than $10,000 invested in 2013. However the total present value is now $164,149. So those ten investments of $10,000 would only be $100,000 if stuck under my mattress, but is now worth over $160,000. I calculated the internal rate of return as 8.1%.
My actual contributions were higher and not quite as constant, but it remains that roughly 60% of my portfolio size today is from saved income, and 40% is from investment growth.* This was not a product of honed skill, excellent timing, or high intelligence. It was just saving regularly, investing in low-cost diversified funds, and not panicking.
This reminds me of this Jack Bogle quote:
Own the stock market, own the bond market, as modified to meet your needs, and don't peek. One of the greatest rules for investing ever made. […] Don't even peek at your account; don't open those 401(k) statements. If you don't look at your 401(k) statement–this sounds outrageous, but it's true–for 45 years … you start when you're 20 and you don't open a single statement for the next 45 years, when you open that statement the day you retire, you are going to go into a dead faint of amazement about how much money you've accumulated.
The hardest part of investing is not doing anything stupid.
To summarize, looking back on my last 10 years, I must say that both savings rate and investment return are important. If I didn't save, I wouldn't have anything to invest. But if I didn't invest it prudently, I'd also have a lot less than I do now. Start as soon as possible, learn about investing basics, learn about managing risk and emotions, and the combination will be quite powerful over time.
* Side note: I ran the numbers the same way for Vanguard LifeStrategy Moderate Growth Fund (VSMGX) which is a static 60% stocks and 40% bonds, and the results were still very similar. My $100,000 spread out over the last 10 years would have grown to $156,000, working out to 36% of the final portfolio being investment gains.