Update October 2021: On 10/1/2021, Porte announced that starting on 1/1/2022 they will be adding some significant new requirements to obtain the 3% APY on balances up to $15,000. You must have each of the following during each calendar quarter:
Receive at least $3,000 in Qualifying Direct Deposits of payroll, pension, or government benefits payments from an employer or government agency into your Porte Spending Account.
Make at least 15 Qualifying Debit Card Purchase Transactions with a merchant for goods or services (excludes transfers and/or cash withdrawals) from your Porte Spending Account.
Again, this goes into effect on January 1st, 2022, so I am not updating my review below. If you meet these qualifications during a quarter in 2022, you'll get 3% APY for that same quarter (they only pay out interest quarterly). The new requirements aren't horrible (works out to $1,000 direct deposit and 5 debit purchases per month on average), but definitely makes their offering more hassle and less competitive. If you don't meet these new requirements, then you'll only get 0.20% APY on balances under $15,000. All balances over $15,000 will also earn 0.20% APY as of 1/1/2022.
Original full review: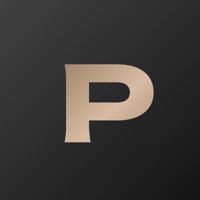 Porte is another banking fintech app, this time with the notable feature of 3.00% APY on up to $15,000 on their attached high-yield savings account. To enable access to this account, you must have a one-time occurrence of $1,000+ of direct deposits within one month. There doesn't appear to be any ongoing requirements after that.* This makes it a more simple setup than the 3% APY accounts of HM Bradley and One Finance, albeit with a lower balance limit. Thanks to reader Matt for the tip.
Referral bonus. New sign-ups can also earn an additional $50 bonus if you open a new account via referral link (follow the direction if not on a mobile browser) and establish a direct deposit of at least $500. That's my link and I will also get the same bonus, so thanks if you use it! If you have issues with the bonus posting, please let me know.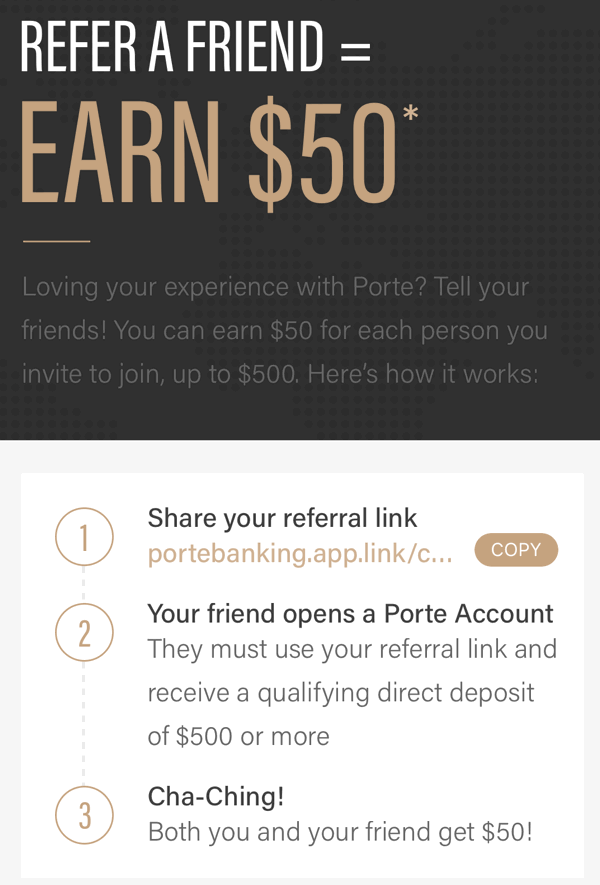 Quick 3% APY math. If you were to max out the $15,000 at 3% APY and this interest rate holds for a year (a big if), you would get $450 of interest over that year. Compare with a 0.50% APY savings account that would earn $75 in interest on $15,000 in a year, for a difference of $375 a year. As long as that gap stays wide enough, that could be an ongoing $20 to $30 a month in extra interest income.
Additional features.
No monthly fees, no minimum balances.
Fee-free access to Moneypass ATM network (32,000+ locations).
Free debit Visa card.
Mobile check deposit via app.
They have "real human" (their words) customer service available at 800-267-7080. FDIC insurance is provided by their partner bank, MetaBank. This is the same bank behind Netspend, which used to have a more interesting 5% APY prepaid card. Note that interest also posts quarterly.
An important missing feature is that you can't use their app to link an external bank account to make ACH deposits/withdrawals. You can make one-time deposits via a debit card from one of your other accounts (they use Plaid). You will have to link this account using another online bank as the hub (Ally, CapOne 360, Marcus, etc) to make ACH transfers. Otherwise, you'll have to use their debit card and use Venmo/Apple Cash or similar. Little things like this show that it is a small start-up.
* Fine print. The wording on the site is a little ambiguous, but if you look through the fine print you'll see that you only need one direct deposit to open the savings account, and once it is open, everybody gets the higher interest rate (3% APY as of this writing). There are no ongoing hoops listed.
No minimum balance to open Savings Account or obtain the yield(s). However, you must receive direct deposit(s) totaling at least $1,000 within one (1) calendar month to be eligible to open a Savings Account.
If the Average Daily Balance is $15,000.00 or less, the interest rate paid on the entire balance will be 2.97% with an annual percentage yield (APY) of 3.00%.
My experience. I opened the checking account and was allowed to open the savings account immediately after making $1,000 in qualifying direct deposits. (They don't seem to be highly discerning as to what constitutes a direct deposit, but no guarantees.) You must manually transfer your funds from the checking to savings in order to get the 3% APY, which makes the funds inaccessible to your debit card. Even so, I declined their "Overdraft Service", as I'd rather they just reject any transaction that would send me into negative territory. It doesn't appear that the savings can be used as an overdraft source. My routing number is 073972181, which matches MetaBank, NA. I was able to make deposits and withdrawals to this account.
Bottom line. Porte is a new fintech app that offers a notable 3% APY on balances up to $15,000 once you complete a one-time direct deposit of $1,000 within a month. This is currently a much higher interest rate than the competition. The rest of the app is similar to other fintech offerings, but the high-yield savings account may be attractive for savers. There is special sign-up bonus via referral link (see above).