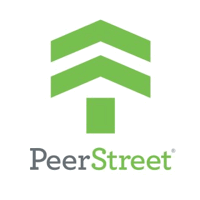 Updated February 2021. I started investing in PeerStreet real-estate backed loans in July 2016. I've long liked the idea of hard money loans, but I wanted more diversification as opposed to tying all my money up with one single property. Peerstreet requires you to be an accredited investor. (There are other real-estate sites like Fundrise that don't require that status.) Here are my overall numbers after over four years, with details below:
Total deposits (loaned principal): $35,000 ($60,000)
Total interest and fees earned: $3,979
52 loans made and paid off, 8 current loans, and 3 late/default.
Internal rate of return (IRR) of 6.92% as of 2/16/2021.
Basic idea: Short-term loans backed by real estate. Real estate equity investors want to take out short-term loans (6 to 24 months) and don't fit the profile of a traditional mortgage borrower. They are professional investors with multiple properties, need bridge financing, or they are on a tight timeline. As a real-estate-backed loan investor, you lend them money at 6% to 12% and usually backed by a first lien on the property. The borrower stands to lose the equity in their property, so they are incentivized to avoid default. In the worst case, you would foreclose and liquidate the property in order to get your money back. However, this is better than Prosper or LendingClub where it is an unsecured loan and your only recourse is to lower their credit score.
What are PeerStreet strengths? Here are the reasons that I decided to put more a higher amount of money into PeerStreet as compared to other worthwhile real estate marketplace sites:
Debt-only focus. Other real estate (RE) sites will offer both equity and debt (and things in between). PeerStreet only focuses on debt, and I also prefer the simplicity of debt. There is limited upside but also less downside. Traditionally, this might be called "hard money lending".
Lower $1,000 investment minimum. Many RE investment sites have minimums of $10,000 or $25,000. At PeerStreet, $25,000 will get me slices of loans from 25 different real estate properties. You can even reinvest your earnings with as little as $100.
Greater availability of investments. Amongst all the RE websites that I have joined, PeerStreet has the highest and most steady volume of loans that I've seen. I dislike having idle cash just sit there, waiting and not earning interest. They apparently have a unique process where they have a network of lenders that bring in loans for them. They don't originate loans themselves, they basically buy loans from these partners if they fit their criteria. This steady volume allows the lower $1,000 minimums and more diversification, as well as easy reinvestment of matured loans.
Automated investing. The above two characteristics allow PeerStreet to run an automated investment program. You give them say $5,000 and they will invest it automatically amongst five $1,000 loans. You can set certain criteria (LTV ratio, term length, interest rate). When a loan matures, the software can automatically reinvest your available cash. I don't even have to log in.
Consistent underwriting. You should perform your own due diligence in this area, as you can only feel comfortable with automated investing if you think every loan is underwritten fairly. The riskier loans get higher interest rates. The less-risky loans get lower interest rates. The shady borrowers are turned away. I hope they earn their cut by doing this difficult task.
Strong venture capital backing. They have a history of increased funding. Series A was $15 million in November 2016. Series B was $30 million in April 2018. Series C was $60 million in October 2019.
Here's a screenshot of the automated investing customizer tool: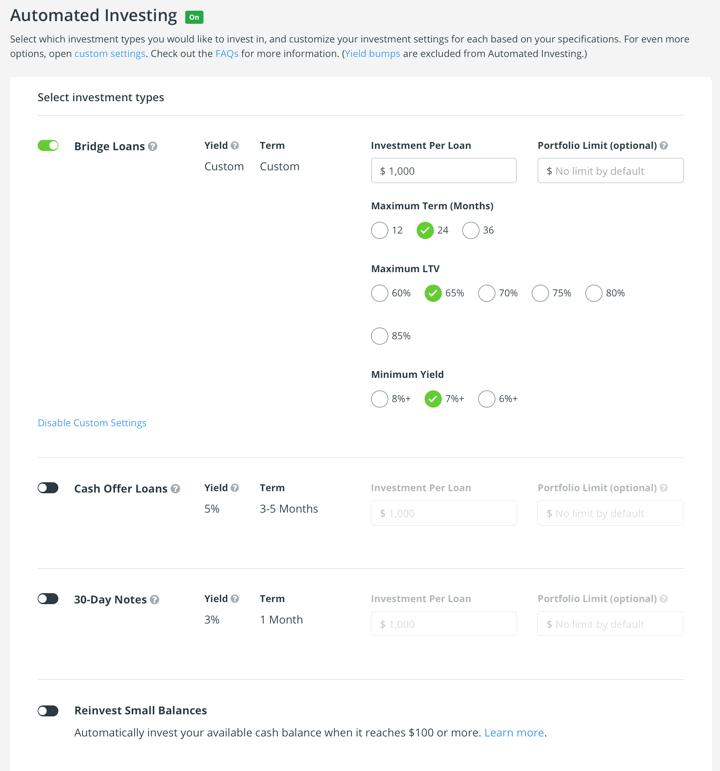 What are PeerStreet drawbacks? A general drawback to real-estate backed loans is that your upside is limited to the full interest being paid back on time, while your downside is much larger if there is a prolonged housing crash. As long as housing prices are flat to strong, everything will probably work out fine because your collateral will cover everything. This is why it is important to have a cushion via the loan-to-value ratio.
In my opinion, one major drawback specific to Peerstreet is lower yields. This is just my limited understanding and I may be wrong, but PeerStreet has a network of lenders bringing in these deals and thus need to be paid some sort of "finders fee", so the net yield to the investor feels lower than other sites. You could argue that this is also their secret sauce that brings in the high loan volume (and ideally the ability to be more selective), but at some point the rate is too low to justify the risks being taken.
In the current low-interest rate environment, it is also my opinion that too many real estate crowdfunding sites are chasing too few loans, which has been driving down the interest rates offered. I started out being able to find a lot of loans in the 8% to 9% range, but now the more conservative notes are in the 7%-7.5% range. In the current yield environment, my target is an 8% return while also maintaining a loan-to-value ratio of 70% or less.
How does PeerStreet make money? As with other real estate marketplace lenders, they charge a servicing fee. PeerStreet charges between 0.25% and 1%, taken out from the interest payments. This way, PeerStreet only gets paid when you get paid. When you invest, you see the fee and net interest rate that you'll earn. In exchange, they help source the investments, set up all the required legal structures, service the loans, and coordinate the foreclosure process in case of default. In some cases, the originating lenders retains a partial interest in the loan ("skin in the game"). Here's a partial screenshot:

What if PeerStreet goes bankrupt? This is the same question posed to LendingClub and Prosper, and their solution is also the same. The loans are held in a bankruptcy-remote entity and will continue to be serviced by a third-party even in a bankruptcy event. From their FAQ:
PeerStreet also holds loans in a bankruptcy-remote entity that is separate from our primary corporate entity. In the event PeerStreet no longer remains in business, a third-party "special member" will step in to manage loan investments and ensure that investors continue to receive interest and principal payments. Additionally, investor funds are held in an Investors Trust Account with City National Bank and FDIC insured up to $250,000.
Tax forms? In previous years, I received both a 1099-INT and a 1099-OID. Basically, both include your gains that will be taxed at ordinary income rates (like bank account interest). Here's what PeerStreet says:
PeerStreet investors will be issued a consolidated Form 1099 for the income distributed from their investment positions. Investors may receive one or more of the following types of 1099 form:

1099-OID for notes with terms longer than one year (at the time of issue)
1099-INT for notes with terms less than one year (at the time of issue)
1099-MISC for incentives, late fees or other income, if more than $600.
My personal performance. I started with a $10,000 investment in 2016, added another $15,000 in 2017, and added another $10,000 in 2019. Altogether, I also made about $25,000 of withdrawals whenever a loan was paid back and the loan inventory was not attractive. (They pay no interest in idle cash, and I don't like their short-term options.) Each of my loans was less than 5% of the total portfolio. In order to get first dibs on the good loans, I set up automatic reinvestment when possible.
Here is a screenshot from my account: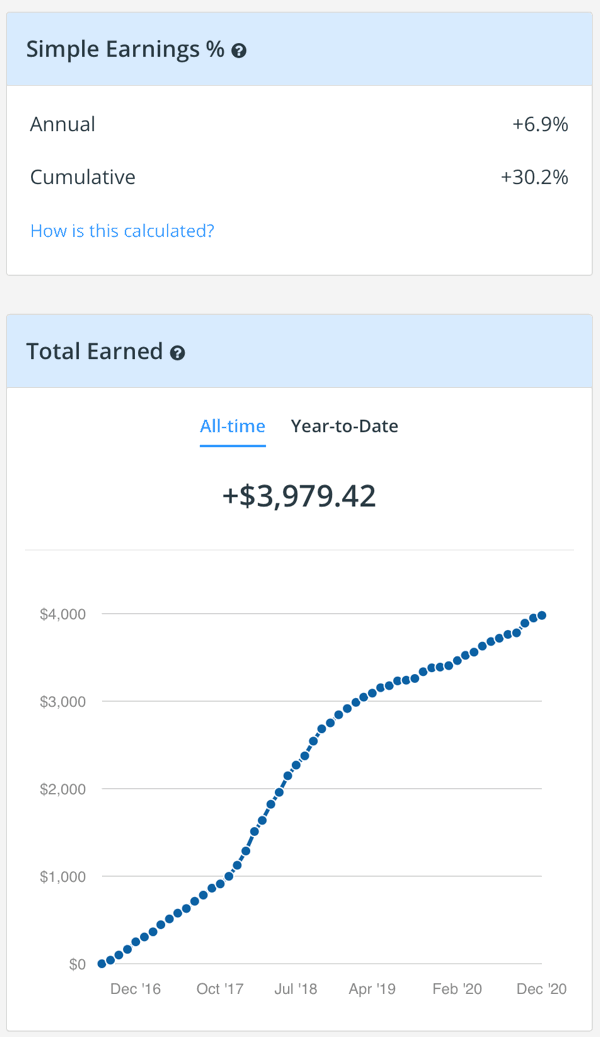 As of February 2021, my internal rate of return (IRR) is 6.92% annualized net of all fees and taking into account the periods where my cash was idle. I verified this using my own spreadsheet and it matches the reporting by Peerstreet. Right now, 3 loans are in some phase of the foreclosure process. These loans are all less than 70% LTV, but I don't know what the final recovery amount will be. In the past, I have had several late loans and all were resolved with no loss of principal (but that is no guarantee of the future). I expect my final IRR to be in the 6% to 7% range.
If you are thinking about this investment, the things I would want you to know are:
Real-estate backed loans are highly illiquid and the "maturity date" is just a hopeful number. You can't just make a few clicks and sell, while the foreclosure process can take years to complete.
If you want some degree of reliable cashflow and/or liquidity for your funds, it is important to diversify across multiple, smaller loans.
The collateral makes a huge difference. With P2P unsecured loans, being 60 days late usually meant I was going to recover pennies on the dollar. With Peerstreet, I could wait around for an extra year yet still end up with all my principal plus most of the owed interest (if not more due to late charges). I have had many missed maturity dates over the years, but none of my loans have actually resulted in a loss. Usually the borrower realizes that they are better off figuring out how to pay back the loan rather than lose the property. Case Study #1. Case Study #2.
My expected net return of 6% to 7% has a good chance to be higher than even many "junk" bonds (and certainly high-grade corporate bonds) in this ultra-low interest rate environment. Being able to earn even 5-6% when corporate bonds are earning only 2-3% is going to attract some attention. Peerstreet is already working on packaging their loans into a fund, which may result in institutional money taking over soon.
It shouldn't be overlooked that my ownership period did not include any prolonged, severe housing price drops.
Case studies. Here are detailed examples from my own investing experience that help illustrate my points:
Other sites that are offering new asset classes are Fundrise (direct ownership of real estate equity), FarmTogether (farmland), Masterworks (art), and Yieldstreet (various). I've also invested in LendingClub and Prosper (consumer loans).
Bottom line. PeerStreet offers higher-yield, short-term loans backed by physical real estate. As compared to traditional "hard money lending" on single local properties, Peerstreet allows investors to diversify easily with a $1,000 minimum investment per property, automated reinvestment, and nationwide exposure. In exchange, PeerStreet charges a servicing fee between 0.25% and 1%, taken out of the interest charged to the borrower. The returns you see in the listing are net of their fees. This is a unique asset class and it is important to understand the patience required due to limited liquidity.
If you are interested, you can sign up and browse investments at PeerStreet for free before depositing any funds or making any investments. You must qualify as an accredited investor (either via income or net worth) to invest. If you already invest with them, they now sync with Mint.com.