ChargeSmart is a bill payment service that allows you to pay many bills with a credit card that usually don't accept such payments, including mortgages, auto loan, student loans, and utilities. Only participating vendors are eligible, but they seem to have signed up several large companies including Bank of America/Chase/Wells Fargo mortgages, Sallie Mae student loans, and Ally Financial auto loans. In general, it works with all Visa, MasterCard, and Discover branded cards.
Benefits
If you have a rewards credit card, this service gives you the ability earn cashback or frequent flier miles on more purchases. You'll also be able to take advantage of your card's grace period since you won't have to pay up until your credit card bill is due (up to 45 days later depending on when you charge in the statement cycle). If you have a card with a introductory 0% APR on purchases, you could extend the interest-free period even longer.
Another side perk would be for $500+ credit card bonuses, where you use this service to meet the minimum spending requirements. For example, the Chase Sapphire Preferred® Card will get you $625 in travel after you spend $4,000 in purchases within the first 3 months. If you're a little short, paying a 2-3% fee to reach that requirement is worth it since a $625 bonus on spending $4,000 is effectively 15.6% back. (You'll also get 1.25% back on your purchases toward travel as rewards.)
Costs
In most cases, there is a fee involved that depends on the vendor. This may or may not be worth it to you, depending on how much you value your credit card points or miles. Here are a few special cases to consider.
Discover Utility Bill Fee Rebate (Expired)
Previously, if you used a Discover card to pay a participating utility vendor, Discover would have provided an instant rebate your Chargesmart fees. Paying my water bill would have otherwise cost me $16.40 for a $500 payment (3.28%), or $6.10 for $50 payment (12.2%). You'll even earn all the usual rewards that your Discover card offers. I like the Discover More card for their 5% back on rotating categories feature.
Hidden "Large Payment Security Fee"
You should be aware that their initial fee calculator can be somewhat misleading. I was trying to pay a test payment to a mortgage lender for $2,000, and was given a fee quote in Step 1 for $21.95, which was 1.1% of $2,000. Not bad, I thought, you can get 1.5% cash with something like the Capital One Cash Mastercard.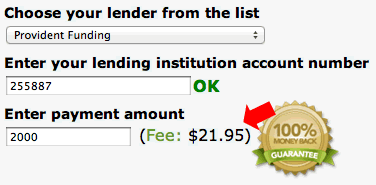 Step 2 is your address information, and Step 3 is your credit card information. So far so good. But in Step 4, they tacked on a "large payment security fee" which added another $25.71 to make the total fee amount $47.66, working out to 2.4% of $2,000. Trying out some different lenders, the final fee amount seems to always work out to about 2.4% for payments over $1,000 or so.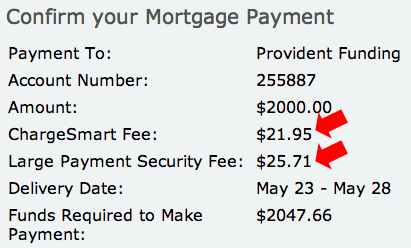 One last wrinkle… there's a little box that tells me if I sign up to make this payment every month, I'll get $10 off this first month's payment. (You can cancel later.) That would make it $37.66 out of $2,000 or 1.88%. That makes it a little better, but not a screaming deal. But for meeting bonus requirements, a mortgage/auto loan/student loan payment is an easy way to charge something you need to pay anyway.
"Disclaimer: This content is not provided or commissioned by the issuer. Opinions expressed here are author's alone, not those of the issuer, and have not been reviewed, approved or otherwise endorsed by the issuer. This site may be compensated through the issuer's Affiliate Program."
"The responses below are not provided or commissioned by the bank advertiser. Responses have not been reviewed, approved or otherwise endorsed by the bank advertiser. It is not the bank advertiser's responsibility to ensure all posts and/or questions are answered."