We paid off our mortgage. We contacted Provident Funding and requested the full amount due including any accrued interest, the money was sent via bank wire, and the loan is recorded as paid in full. As you might imagine, I spent many hours contemplating this move. In a somewhat anticlimactic fashion, the letter below warning us we had to pay the property taxes ourselves was the first physical acknowledgement of the occasion. I found it amusing that it was addressed "Dear Homeowner", as I never really felt like I owned my home until now.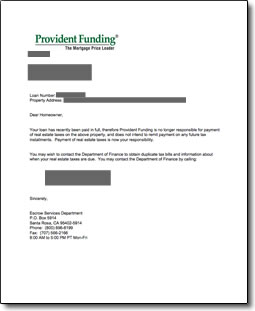 A bit of history. When we first bought our home, we looked at the common rules of thumb regarding house affordability and ended up paying 20% down with a initial mortgage less than 3 times our combined income. Indeed, we qualified for the mortgage on my wife's documented income alone. We thought about getting a 15-year note but went for the flexibility of the 30-year note, while paying it down at the 15-year pace. Over subsequent refinances, our interest rate dropped from 6% to 3%. Even though this made our required monthly payment much less, we kept up the higher monthly payments which had us on the pace of a 10-year payoff.
While our mortgage payment felt "affordable" in terms of income, from the very beginning the monthly payments made up more than half of our household expenses. I was reminded monthly that if we paid off the house, our required expenses would be lower so much that one of us could stop working completely. In the end, the timing was accelerated due to birth of our new child and the personal decision against using daycare.
I already mentioned much of this in our October 2012 post about market timing and redirecting our money including any bonuses towards paying off the house. As usual, my timing stank and the S&P 500 is over 8% higher today than it was 6 months ago. Without a mortgage, our emergency fund (12 months of expenses) could also be cut in half, so the difference could also be put towards the mortgage. We had the money available in taxable accounts, and after hemming and hawing for a bit, we pulled the trigger. Final result: We paid off our house within 6 years.
Why pay off the mortgage early at all? You can see my reasoning for this decision in my posts Pay Off Mortgage Early? The Details and Rule of Thumb: When To Pay Off The Mortgage Early. I don't necessarily recommend early mortgage payoff for everyone. It all depends.
What's next? It's been a learning experience. Our original plan circa 2005 was that I would be stay-at-home dad. But I realized that I like working more than I thought I would as opposed to taking care of kids full-time, while my wife discovered that she liked work less than she thought. We are making a transition to what I call pseudo semi-retirement. That may be a bit strong though; it's the 2013 version of the traditional single-breadwinner arrangement, but instead we both work part-time and both look after the kiddos the rest of the time. As a couple, we'll basically work the hours of a single full-time job. With no mortgage, we'll still have enough income to cover the expenses and still save some for retirement – just less than before. I don't consider it real semi-retirement as we won't have to actually take any income from our current portfolio.
We're definitely not retired, but I think it's a big step in a optimized lifestyle. I look forward to seeing how this works out. If we like it, we'll may stick with prolonged semi-retirement instead of going for early full-retirement.