Ah, budgeting. New year, same old goals? While I'm not one of those people that think everyone needs a detailed budget, I do think everyone should track their spending at least once a year or so. This way, you have a real snapshot of where your money is going (which may just surprise you). Writing down every little transaction on a piece of paper or even tapping it into your smartphone can get really tedious. So here's what I do to manage it in 15-minutes a year.
Put All Your Spending On A Credit/Debit Card
The main idea is to put all your spending in an electronic format so that a bank keeps track of all your purchases for you instead of little slips of paper. If you don't like credit cards, use a debit card. But credit cards offer superior consumer protection features, so I prefer them. You don't need to put it all on one card, but it does make things simpler.
Now, do this for a month, and avoid paying cash whenever possible. Don't change your spending behavior, and there is no need to record anything.
Sign Up For Mint.com

Next, you should sign up for the online aggregator tool Mint.com. I also like versions of Yodlee, but it looks like their development has slowed significantly. To start, all you need is your e-mail address and the login details for your credit card website.
I know that many people are wary about giving out their login credentials, but in my opinion your credit card login is not as sensitive as say, a bank login. Credit card companies make so much money that they are happy to refund any fraudulent charges immediately. It is in their interest to make you feel very safe about using credit cards.
Anyhow, Mint has improved their back-end system so that most credit card information syncs up fairly quickly. Click on the "Transactions" tab on the top of the page, and you should see all your recent purchases. You can wait until after a month of spending on the card, because Mint should upload all your historical transactions within the last few months.
Categorize Transactions
Without any input from you, Mint will have tried their best guess for the Category of each of your purchases. They've gotten better, but there will likely still be a few that are incorrectly categorized or simply left labeled as "Uncategorized". In addition, some of your purchases from a megastore like Walmart/Target/Costco might be "groceries" or it might be "electronics".
Use the the pull-down menus and spend a little time "teaching" Mint the proper categories that you prefer. If you want all future CVS purchases to be under "Groceries" instead of "Pharmacy", you can click on Details and make a rule that will do that for you automatically. This saves lots of time in the future.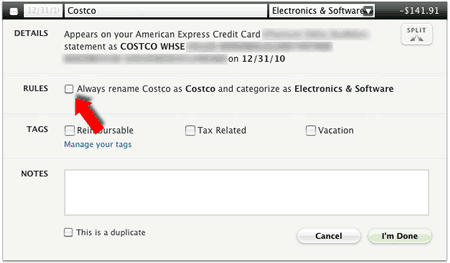 Finally, if you have certain transactions that you wish to have Mint ignore in your budget calculations, use the "Exclude from Mint" category.
Pretty Pie Charts!
After all your transactions look nice, click on the "Trends" tab on top, and check out some pretty pie charts created from your spending history. The charts are very interactive, click around and drill down into your data. You might need to go back and re-label some expenses to get everything to sort nicely.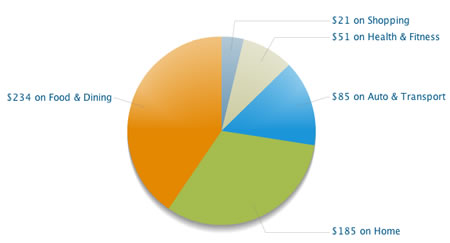 Now you should have a clearer idea of where your money goes. If you have bills that you had to pay by bank account, you'll want to account for those separately if you don't want to sync it up with Mint. If you make some small cash purchases, just track your ATM withdrawals. I just made a rule that labeled all ATM withdrawals "Dining Out", since that's usually where it goes.