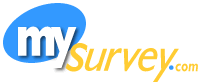 Another survey company that I've gotten paid out for and that I have heard other positive experiences about is MySurvey.com. Like other programs, they offer you rewards points for taking surveys. They let you redeem the points for cash, which is nice. 1000 points = $10, so think of it as $0.01/point. The payouts tend to be smaller per survey (from 10-300 points), but the surveys are also shorter. Occasionally I have been offered to receive test products and then provide feedback on them for points as well. I also like that they seem to have a steady stream of paying surveys every month.
MySurvey joins Pinecone Research, E-Rewards (both currently not taking new members), and SurveySavvy as the paid survey programs that I've used and liked so far.
You can also try Greenfield Online, but they offer less good-paying surveys.