Mosaic is a new crowdfunding start-up allows investors to invest in clean energy projects with as little as $25. A solar power farm needs financing to get built. They sell the energy produced to customers like major utilities and then pay investors back. Mosaic takes a cut. Mosaic has recently been more projects since their debut (and sellout) earlier this year.
Below is a screenshot of an actual project with a 12-year horizon with expected 5.5% yield that is currently in funding – the one I was looking at yesterday already funded! If you live in California, you're likely to be familiar with PG&E which made a 20-year agreement to purchase power from this project. On the production end, Panasonic is guaranteeing a minimum power production level for 12 years (or else they cover the difference). I'm not sure what the interest rates on these types of project would be on the open market, but right now Yahoo Finance shows the average yield on a AAA-rated 10-year corporate bond to be 3.60%.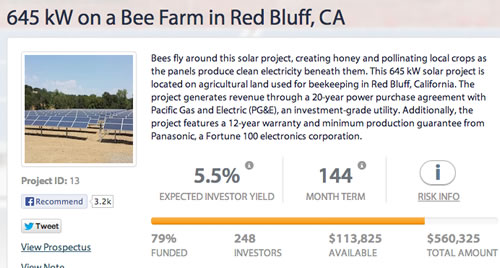 I went ahead signed up for an account and found that they do have some important residency restrictions.
If you reside in a state other than California, Colorado, Oregon, Nevada, or New York, you may only invest on the Mosaic platform if you are an accredited investor, as defined by the U.S. Securities and Exchange Commission.
From my previous small investments in Microplace to LendingClub, I guess I have a thing for crowdfunding-style startups with a profit component. I'm only putting a tiny percentage of my portfolio, but I like the concept. I think it is possible to earn a fair return and still make a positive impact. (Update: I forgot about Realty Mogul, which I haven't invested in.)
Previous media coverage: Techcrunch, Bloomberg, WSJ