As part of new reforms, the government is debating what downpayment size should be required for a "qualified" residential mortgage. If a mortgage doesn't meet the new standards, the lending bank would have to retain 5% ownership even if selling the rest to investors. The initial proposal is for 20%, but of course the mortgage industry wants the required down payment to be as small as possible. They want to keep the good ole' days from being able to offload the risk entirely onto others.
Honestly, if banks can't handle keeping even 5% ownership of the loans they originate, why would I trust their underwriting at all? Their track record for determining creditworthiness hasn't exactly been stellar. Of course, their public argument is that a low downpayment keep homes "affordable" for everyone. From the Washington Post:
"Why, in a law intended to fix the mistakes that caused the credit crisis, would you mandate a certain down payment when low down payments were not the problem?" said Kathleen Day, spokeswoman for the Center for Responsible Lending.
Actually, they are a problem. Felix Salmon points out how the mortgage industry is trying to influence people with misleading statistics, saying that "boosting down payments in 5 percent increments has only a negligible impact on default rates." After some wrangling, Salmon got this clearer chart showing delinquency rates as a function of downpayment size for the period 2002-2008: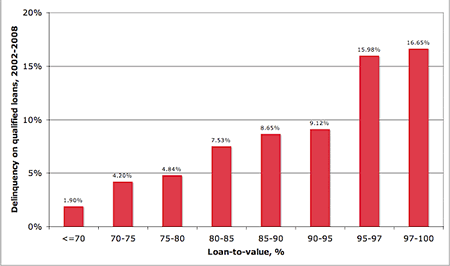 When the mortgage industry starts complaining about the 14 million people who would be denied the chance to buy a qualified mortgage if they don't have a 5% downpayment, it's worth remembering that qualified mortgages for people who don't have a 5% downpayment have a delinquency rate of 16% over the course of the whole housing cycle. (You can be sure the numbers were much higher still in 2006 and 2007, which is why Guarino didn't give them to me.)

And you can see too why the 20% downpayment limit was put in place: it's the point at which delinquencies fall to less than 5%. If you take one group of loans with a 20-25% downpayment, and a second group of loans with a 15-20% downpayment, then the second group, on these numbers will have a delinquency rate 56% higher than the first.
The fact is, downpayment size does matter. Imagine what the chart above would look like with data from 2006 to 2009. It should serve as a reminder that giving anyone with a pulse a mortgage loan because it's the American Dream was a bad idea.
A 20% downpayment was the standard when banks actually kept 100% of mortgage on their books. I'm not saying every single person should need 20% today; A bank should be able to create a mortgage that requires less, but in exchange it should have to have some skin in the game. If a lender won't even keep a mere 5% on their books, doesn't that just show the mortgage is too risky in the first place?
More reading: NY Times, ChicagoMag