I was cleaning out my Inbox and ran across somebody who was wondering if my money was from my parents or other gift/inheritance. So I wanted to expand upon my initial About Me post and share some more about my financial past.
Let's start with college. My parents did help me through undergrad, but I still took about $8,000 of students loans for each of my four years. So, $32,000 in total. I worked part-time every single year in college, working everything from restaurant host to tutor to parking lot attendant. This mostly went towards food and spending money. I also worked full-time every single summer. I'd say each summer I'd earn about $3,000 net, and $1k (edit: towards loans) from during the rest of the year.

So that left me with about (32-4*4) = $16,000 in debt leaving college. I then went to grad school for three years, earning between $15k-$17k gross per year being a professor's slave. Nowadays I'm amazed at how little I spent. I probably paid off about $3k each year, so leaving grad school I had about (20-3*3) = $11k of debt. Also had cash savings and started an IRA too. Off to being a working stiff. I proceeded to paid off the rest of the student loans within 12 months. Summer 2004, got married and then had two incomes (and higher standards of living). According to my calcs – here as an updated Net Worth versus Time graph (see old one) for me/us: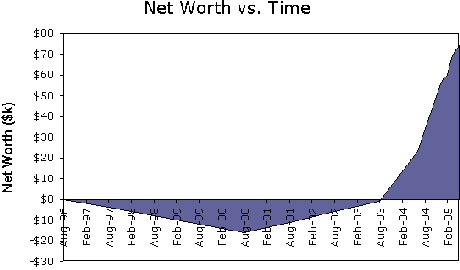 So, I guess the answer to the e-mailer's question is – Yes, my parents did help me partially through undergrad, but since then I've been living on my own and haven't received any assistance. They also gave me a used car as a graduation gift, which I'm still driving today. I'm happy to say I have no car loans, home loans, or student loans. Well, mostly happy about the home loan part.