In my Roth or Traditional 401k decision process, I chose the Roth for the rest of this year. This essentially means that I'd rather pay up to 28% of tax right now on my contribution rather than pay whatever the going rate will be 30+ years from now. But why? I'm have relatively high income right now – Shouldn't my income in retirement be less if I really want to be a beach bum? Probably, but here's why I think 28% is still a pretty good deal based on history…
Having to guess what tax rates will be 40 years into the future is a daunting task! So let's start by looking 40 years in the past. From 1967 to 2005, I found the both the median household income and the 95th percentile income from the U.S. Census Bureau. I chose these to roughly represent "middle" and "high" income levels.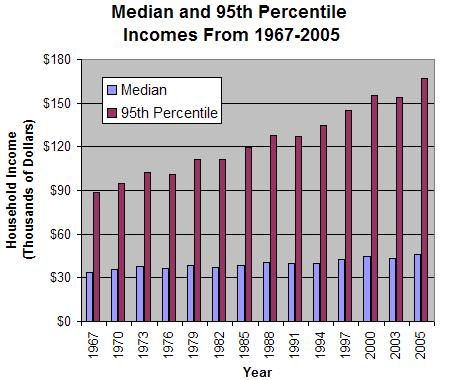 As you can see, both grow with time. (Yes, the gap between them is increasing. Let's sidestep that hot potato right now.)
Next, I found the corresponding marginal tax rates that such incomes would have paid each year. Since we are looking at households, I used the tax information for the Married Filing Jointly status as an approximation. I ignored things like standard or itemized tax deductions across the board to keep it simple. With this information, we can roughly see how the marginal tax rates have changed over time, while still adjusting for the gradual increase in incomes: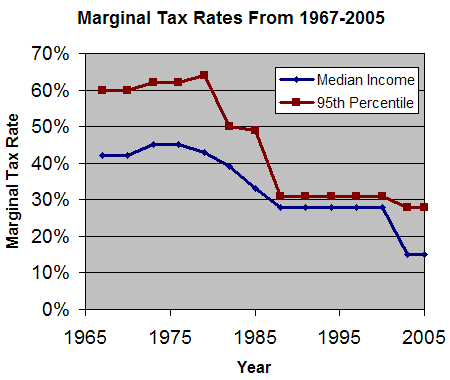 Results and Conclusions
We are currently experiencing some of the lowest marginal tax rates in recent history. The average marginal tax rate for a median, or "middle income", household from 1967 to 2005 was 33%. The average marginal tax rate for a "high income" household was 44%. Today, we are only at at 15% and 28%, respectively. Assuming that today's tax rates will continue on for the next 20, 30, 40 years may not be the best idea.
Will they get even lower? Or even flatten out? I don't think so. Considering the historical rates we say above, and combining that with our continuing government deficits and the prospect of a nationalized health care system, I personally find it unlikely that in 2047 my marginal tax rate will be lower than 28%, even at median income levels. What do you think?
To be sure, this is a very simplified analysis. I am not even looking at total tax rates, just marginal ones for the express purpose of directing my IRA and 401k contributions. If you know of a better study done elsewhere that I missed, please do share.