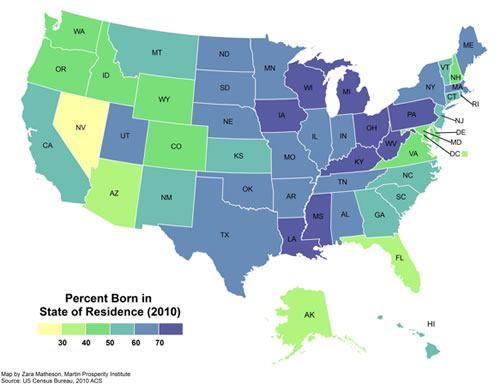 I can't stop posting map infographics! They're just so pretty. 🙂 Richard Florida of The Atlantic shared the map above, which shows the percentage of residents of each state that were born in that state. He then goes one step further and concludes that this map backs up his theory that America is being divided into two economic classes – the stuck and the mobile:
The mobile possess the resources and the inclination to seek out and move to locations where they pursue economic opportunity. Too many Americans are stuck in places with limited resources and opportunities. This geography of the stuck and mobile is a key axis of cleavage in the United States.
If mobility was once considered to be a quintessentially American attribute, it is now one that only an elite sliver of the population can lay claim to. It is both a significant shift and a sobering one. (source)
He cites the fact that fewer Americans are moving now than before, ostensibly because they are stuck in underwater homes. Still, using this particular map as proof of such a class divide seems like a stretch to me. There are many reasons why someone may or may not end up living in the state they were born. This map is the result of decades of complex interactions, not just what happened the last few years.
Just to throw out some examples, perhaps some states simply created significantly more job openings than could be filled by existing residents (DC Metro area, Alaska, Nevada). Some are retirement havens (Arizona, Florida). Also, I can't tell if this map excludes residents born outside the US. Hundreds of thousands of immigrants came from around the world to settle in America – they were often both poor and mobile. Immigrants also tended to settle in coastal areas, which would affect the results above as they obviously weren't born in the state they currently reside in.
In the end, I bet this map would have looked very similar even before the housing crash. A quick look at the same US Census data from 1990 confirms that states like Ohio, West Virginia, Kentucky, Pennsylvania, Mississippi, and Louisiana also had "low mobility" over 20 years ago, and states like Alaska, Arizona, Florida, and Washington DC had "high mobility". I'm afraid I don't see the evidence that mobility has been limited to an "elite sliver of the population".