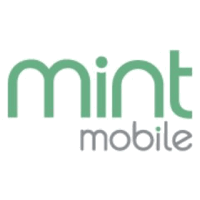 In my own phone, I use Mint Mobile to keep my cell phone costs low. They use the T-Mobile network, which means if you have a compatible phone switching just involves swapping in a new SIM card. It works just fine in my iPhone X. I just renewed for another full year of service for $240 at the 8 GB tier ($20 per month).
They just started a limited-time 40% off promo on their highest data tier with Unlimited Talk, Text, 12 GB of LTE Data per month. Instead of $25 per month if you buy a full year, it's only $15 a month for 3 months ($45 total).
As with most of their promos, it's about getting you to try them out so you can feel comfortable buying an entire year at a time. That's their "gimmick", where you buy in bulk and save.
They also offer a 7-Day Money Back Guarantee (starts upon SIM activation) so you can test them out before making any commitment at all. Here is my Mint Mobile SIM Activation and Number Port Transfer Review. Be sure to use their phone compatibility checker first to see if you can bring your current phone over and just pop in the Mint Mobile SIM card.
Also see:
Disclosure: This post includes affiliate links. If you make a purchase through the links above, I may be compensated.