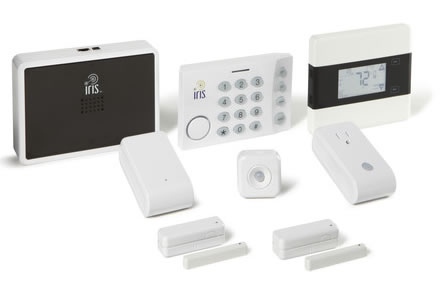 Home improvement chain Lowe's just announced a new "smart home" system called Iris where you can monitor and control your home through your smartphone or computer. The DIY system can be installed with just an ethernet broadband connection and a screwdriver.
You can either buy everything a la carte or via three bundles. The "Safe & Secure" kit includes the central hub, a motion sensor, keypad, and two door/window sensors for $179. The "Comfort & Control" kit includes the hub, a smart plug, and smart thermostat for $179. You can get both kits for $299 (includes range extender but only one hub). However, if your going to outfit an entire home, you'll probably want to add some extra sensors. The good part is that the basic service has no monthly fee, while the premium service costs a flat $9.99 a month. Available online now, or in 500 stores by August.
The ability to turn lights on/off and your thermostat up/down remotely has always seemed a little bit overhyped to me, more an amusing feature than money-saving necessity. I see commercials about it, but I guess I just don't think about light switches when I'm not at home. Otherwise, a simple programmable thermostat works well enough for me. I do like the idea of real-time power usage reporting though (here it requires a $150 meter reader).
Cheap Home Security?
Mostly, I was interested in the home security aspect of Iris because of the lack of monthly fees. Such monitoring fees can add up to hundreds of dollars every year and quickly make up the bulk of the system's overall cost. I recently installed a somewhat similar Simplisafe system (review) that is also based on using various wireless sensors with 5-year lithium batteries (and costs $15 a month for monitoring). Is my investment outdated already?

Internet-based Monitoring Only
From a security standpoint, the main weakness in this kit is that all monitoring is done via the internet. If you rely on cable/DSL and your cable/telephone line is down/cut or your power is out, you won't get any alerts. Also, alerts are only sent to you via phone call, text, or e-mail through their automated computer system. The police is never directly notified, and there is no "central station" monitoring with real humans.
To help address this, one solution might be to get your internet from a wireless 4G or WiMax service. You'd also need a UPS battery backup system attached to your cable modem and router to protect against power outages. In comparison, my Simplisafe system uses a cellular GSM signal, 24/7 central station monitoring, and the hub includes a rechargeable backup battery. One thing that Iris does have that Simplisafe doesn't is the option to add a wireless video camera ($129) that allows you to stream live video to your computer or smartphone – useful to check the house after a sensor is triggered.
Basic vs. Premium
The free basic plan appears to give enough features that I could probably live with them. Lowe's smartly offers everyone a free 2 month trial of the $10/month premium service to get you used to the other stuff (alerts up to 6 people instead of 1, online video storage, scheduled times on/off instead of manual).
Many similar systems are being rolled out from providers like Verizon, Comcast, and Time Warner Cable, but most of these competitors involve an additional monthly fee.
Overall, I like the concept of this system and it can provide a certain amount of security for a reasonable price and no ongoing monthly fees. However, I wouldn't consider it a full-fledge security system. Most burglars may not be smart enough to cut your phone lines or shut off the power before they break into your house, but I don't feel comfortable relying on that.