Update: $100 bonus is expired. Wanted to report that I am had a bad experience with LFCU after being locked out of my account for over a week. Phone hold times were very long, I got routed to a service that promised to call me back, and then never called me back. E-mails also went unreturned. Maybe it's just me.
Original post, may be outdated: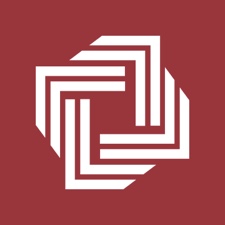 Lafayette Federal Credit Union (LFCU) has a respectable history of offering competitively-priced banking products. I recently joined and here is a quick review of their current promotions and the application process. Highlights:
2.02% APY Checking account on up to $25,000 balance (details below).
$100 bonus for new members (details below)
Competitive CD rates: 7-month at 0.70% APY, 3-year at 1.01% APY, 5-year at 1.26% APY
Membership eligibility. You can view your membership eligibility options here, including working/living in the Washington, DC area. Anyone nationwide can join LFCU by joining the Home Ownership Financial Literacy Council (HOFLC) for a one-time $10 fee.
Account opening process. I went to the HOFLC.org website and paid my $10 to join. (I hope to spend more time exploring their resources later.) I had to attach a screenshot of my membership approval e-mail as part of my LFCU application. The LFCU application was finished completely online. I also had to upload a photo scan of my drivers license. My application was approved after a couple of days.
During the application, I was able to charge my initial opening deposit up to $750. This was classified as a purchase on my credit card (worth $15 at 2% cash back). Note that you must keep $50 that is "untouchable" in your Share Savings account as long as you are a member, which is a bit higher than that of other credit unions (usually around $10 to $25).
I applied through this $100 bonus page which includes promo code DD2022. (Update: I honestly can't remember where I entered the code. You can however secure online message them directly through the membership application portal and confirm that you are signed up for this promotion. I received such a confirmation message promptly.) I must open a checking account and set up a $500+ direct deposit, and I can't close the account within the first 6 months. Details:
Members who open a checking account and initiate a qualified direct deposit to Lafayette Federal Credit Union will receive a $50 deposit to their savings account. An additional $50 will be awarded after first direct deposit which must be deposited no later than 45 days after account opening. Cannot be combined with any other new member offers. Qualified direct deposit is a recurring direct deposit of a paycheck, pension, Social Security or other periodic payment of at least $500 into a checking account on a month-to-month basis made by an outside organization or agency. Must be eligible for membership. If account is closed within first 6 months, initial $50 promotional deposit will be deducted from account.
The first $50 showed up quickly: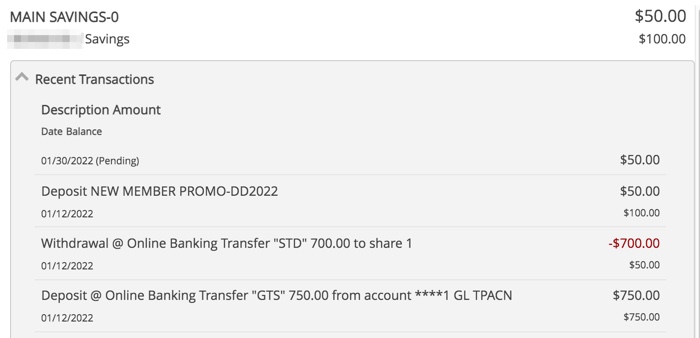 Checking account 2.02% APY details. With the Checking account, they have "2% for '22" promotion which pays 2.02% APY with a qualified monthly direct deposit of $500 or more on balances up to $25,000. The checking account otherwise has no minimum balance requirements or monthly maintenance fees.
To earn the 2.02% APY3 bonus rate, member must maintain at least one (1) qualified direct deposit of at least $500 per month. 2Qualified direct deposit is a recurring direct deposit of a paycheck, pension, or Social Security periodic payment of at least $500 into a checking account on a month-to-month basis made by an outside organization or agency.
If I keep $25,000 in there at 2% APY, that's $500 of interest over a year. That's also $275 more than it would earn in a 0.5% APY savings account. You can use that metric to judge if it is worth your additional efforts. That rough calculation also assumes both those rates stay constant over the next year.
So far, LFCU has been pleasant to work with and my questions were answered quickly and courteously. I hope that they continue to be aggressive in their banking products.