I haven't posted my investment portfolio since April, mainly because it hasn't really changed much. But here's another snapshot: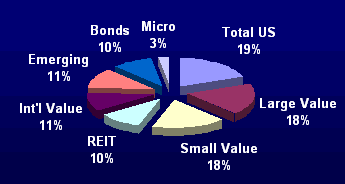 Retirement Portfolio
Fund
$
%
FSTMX – Fidelity Total Stock Market Index Fund
$15,132
19%
VIVAX – Vanguard [Large-Cap] Value Index
$14,567
18%
VISVX – V. Small-Cap Value Index
$14,251
18%
VGSIX – V. REIT Index
$8,163
10%
VTRIX – V. International Value
$8,686
11%
VEIEX – V. Emerging Markets Stock Index
$8,929
11%
VFICX – V. Int-Term Investment-Grade Bond
$7,616
10%
BRSIX – Bridgeway Ultra-Small Market
$2,126
3%
Cash
none
–
Total
$79,470
Fund Transactions Since Last Update
Bought $1,000 of FSTMX on 6/26/07 (23.759 shares)
Thoughts
Another couple of months have gone by, and my desire to re-define my asset allocation remains unfulfilled. All I did was buy some more of a Total US Market fund (FSTMX) through my self-employed 401(k). You'd think someone who writes about money on a daily basis would be on top of such things!
But really, I think I might actually be spending too much time on this. As Jack Bogle has stated, "The greatest enemy of a good plan is the dream of a perfect plan." There is no perfect asset allocation, and I know that. I keep telling myself, I'm not looking for the perfect plan, just a better one which has been well-reasoned out, and one which I should have little reason to tinker with for a long time.
To achieve such a better plan, I have been re-reading each of my favorite investing books on top of many new ones (including All About Index Funds by Ferri, Unconventional Success by Swensen, Only Guide to a Winning Bond Strategy You'll Ever Need by Swedroe), looking at their research, comparing their model portfolios, and trying to balance all the advice given. But after all these months, my slow deliberation has really just turned into what academics call "paralysis by analysis" and have been just been putting off making a decision for weeks. I do have some overall changes planned, including:
Increasing my allocation to international assets,
Decreasing my value tilt, and
Increasing my bond allocation.
I want to avoid trying to time the market, or chasing recent performance. But I also don't want to base my decisions on simply trying to avoid the impression of trying to time the market. Although I'm always open to suggestions, I feel I need to some fresh input. Got an asset allocation suggestion? Ideas on a better value/size/country tilt? Another book to read? Throw it at me.