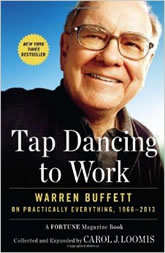 Among the many booths at Berkshire Hathaway's 2015 Annual Meeting was one run by a local bookstore. Each year, BRK approves a list of books, many of which have been mentioned in shareholder letters or other speeches by Warren Buffett and/or Charlie Munger. I always see media articles referring to this list (ex. 11 Picks from Warren Buffett's Bookshelf), but here is the entire official list from The Bookworm.
"I insist on a lot of time being spent, almost every day, to just sit and think. That is very uncommon in American business. I read and think. So I do more reading and thinking, and make less impulse decisions than most people in business. I do it because I like this kind of life." – Warren Buffett
Besides the well-known Buffett biographies and classic investing books, it still manages to include several investing books I'd never heard of before, as well as some intriguing non-investing books by Buffett's siblings and children. There is even a comic book and a separate section for kids. Here's the Amazon-linkified list, sorted by category in alphabetical order.
About Warren Buffett
About Charlie Munger
On Investing
General Interest
Family and Children's Interests