Over at Bogleheads there was an interesting thread which explored how finance professor Moshe Milevsky has been pushing the concept of human capital as an additional variable to the traditional ideas of net worth, portfolio construction, and asset allocation. These are explored in this this trade magazine article for financial advisors, this draft academic paper, and also in his book Are You a Stock or a Bond?.
Human Capital
There are some differing definitions, but below is a brief explanation (taken from the magazine article above) of what is meant by human capital here:
Human capital is a measure of the present value of your client's future wages, income and salary (net of any future income taxes and expenses). For example, if she is a doctor, lawyer, engineer or even a professor, she has probably invested an enormous amount of time, effort and money to finance her education. That investment will hopefully pay off over many future years of productive labour income in the form of job dividends over the next 10, 20 or even 30 years. Sure, clients can't really touch, feel or see human capital, but like an oil reserve deep under the sands of Alberta, it will eventually be extracted and so it's definitely worth something now.
Milevsky likes to talk about people as businesses and thus includes human capital on the balance sheet of "Me, Inc.":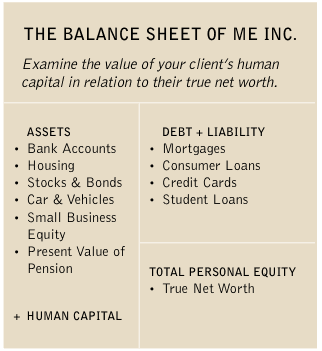 When you're young, your human capital may very well dwarf your 401k balance. With this in mind, it may make you feel better about any short-term losses.
Your human capital can be viewed as a hedge against the losses in your financial capital. So, as a 50-, 40-, or especially 30-year old, you should be willing to take more chances with your total portfolio, perhaps even borrow to invest or leverage into the stock market, because you have the ability to mine more human capital if needed.
Am I a Stock or a Bond?
One characteristic of your human capital to think about is if it tends to act like a stock or a bond. As a tenured university professor, Milevsky offers himself up as a good example of a bond that offers a reliable and steady coupon (paycheck). However, an small business owner, investment banker, or even a car salesman would have an income that is much more correlated with current economic conditions – much like a stock would.
A common piece of advice that relates to this is when people are told not to hold too much of their employer's company's stock (often in 401k plans). Since your salary is already tied to that company, it would be wise to add some diversification so that all your eggs aren't in one basket.
Along the same diversification argument, if you are a "bond" then you may be able to take more equity risk in your retirement portfolio. On the other hand, if you are a "stock" then you may want to reduce your exposure to stock market swings. "Your invested assets should zig when your salary zags… tilt your financial portfolio away from your human capital."
Thoughts
Unfortunately, rarely are things so simple. Human capital is at best a guess of the future, and you could be really far off. And just because your income isn't tied to the stock market, doesn't necessarily mean you can stomach the swings of a highly risky portfolio. If you're the type to panic and sell at the bottom, perhaps increasing stocks would only hurt your long-term investment returns.
I like to imagine a good financial couple as one that pairs up a stock and bond. Perhaps one person holds a steady government job with a pension and healthcare benefits into retirement, while the other is an entrepreneur that takes some risks and tries to strike it big.
Also, what if I don't want take advantage of all my human capital? Sure I could work for another 35 years and consider a big chunk of human capital in my net worth, but I'd really rather not. 🙂
What do you think of this concept?