Don't worry, I haven't turned into some financial "advisor". I was researching ETFs for my 401k roll-over, and came across this article from RadicalGuides: Turning Taxes to Your Advantage. As you know, I'm a index fund (or ETF I guess) guy. I think it is really hard for an mutual fund with active management to beat the market indices over time, and is really hard to pick ahead of time which ones will do so. So is the writer of this article, but he/she points out a possible new way of using ETFs to make tax-loss selling legal and profitable. Sound confusing? It did to me too, I ended up making up a simple example to wrap my head around it. I'm not 100% sure it is right, please let me know if I am wrong!

The main idea is to take advantage of the fact that the IRS lets you claim a deduction for investment losses against your ordinary income. From the article, this means "if you lose $3,000 on an investment, and you realize that capital loss by selling the stock or fund that incurred the loss without realizing any capital gains in the same year, you can claim a $3,000 deduction on your income tax return." So you won't have to pay income tax on $3,000 of your income that you would've had to pay otherwise.
On the flip side, if you make money on an investment and you hold it for longer than a year, you only have to pay long-term capital gains tax, which is only 20% for people in a tax bracket greater than 15%. Please see the original article for details.
So here's my example:
Scenario #1: You are in the 33% tax bracket. Say this year you bought $10,000 of IVV, an ETF that tracks the S&P 500. In 2006 it drops to $9,000, and in 2007 it rebounds to $11,000 and you sell. You'd have a long-term gain of $1,000 from your original $10k, so you pay 20% in taxes ($200), and end up with $10,800 in your pocket. A $800 gain.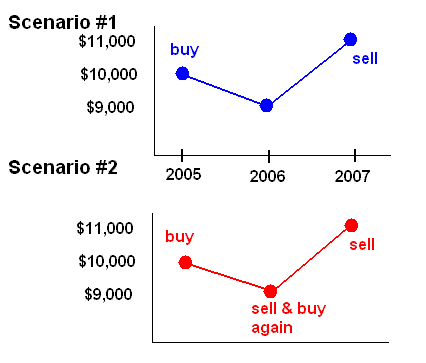 Scenario #2: Again, 33% tax bracket. You buy $10,000 of IVV, and in a year (2006) you sell at $9,000, and the very same day you buy IWB, an ETF that tracks the Russell 1000 Index, but is very similar (but not identical) to the S&P 500. Since it tracks very closely, your $9,000 of IWB in 2006 will also rise back to $11,000 in 2007. After a year and a day, you sell your IWB for $11,000.
Now in 2006, you had a capital loss of $1,000 from your IVV. So you deduct $1,000 from your ordinary income taxed at 33% and save $330 in taxes. That's $330 in your pocket. Then, in 2007 you sell your IWB, and realize a long term capital gain of $2,000. You pay your 20% tax ($400) and you end up with $10,600. Add in your $330 from the last year, and you end up with $10,930. A $930 gain. You just "beat the market"!
Note that you must do this with similar, but not "substantially identical" investments. For example, you can't buy IVV back again right after selling it and try this. That would be called a 'wash sale' by the IRS. More explanation in this Street.com article: When Exchange-Traded Fund Sales Wash, Does the IRS Supply Towels?.
Now, I don't think I did a very good job explaining this, I was trying to make it all very concise. But the RadicalGuides article is pretty good. I recommend read it first, then going through my two scenarios. As always, comments welcome!