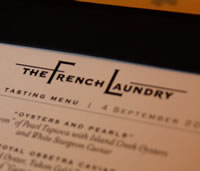 Businessweek has a profile of the latest exclusive, farm-to-table, 16-course-meal restaurant, including a list of the "five toughest restaurant reservations in America".
I found myself smiling because I recently ate at one of the places on that list – The French Laundry in Yountville, California – with just one phone call. How did I get a reservation? By wringing yet another benefit out of credit cards, of course!
The reservation process for The French Laundry is relatively egalitarian. Reservations are only accepted exactly two months ahead either via phone call or OpenTable.com exactly at 10:00am. No walk-ins allowed. I tried for days with repeated phone calls and frantic clicking, all with no luck.
Then I discovered that some people were able to get reservations using their American Express "Black" card, a card for big spenders willing to pay a $5,000 initiation fee and a $2,500 annual fee. I have a lot of credit cards, but this isn't one of them.
However, others mentioned using the Concierge feature of Visa Signature cards. Look for the Visa Signature logo on that back of your existing cards. Here are some popular credit cards that are a Visa Signature, many with nice sign-up bonuses and no annual fee:
Chase Sapphire Preferred® card (review)
Chase Freedom card (review)
Citi American Airlines Visa Signature card (review)
So I called the special Visa Concierge number (800-953-7392) and asked for help making a reservation for two. The next day, they called back and said that they couldn't get me a reservation, but that they would keep trying and get back to me when they did. It took a little over a month, but one day I got a message that they had secured me a reservation on a Monday about 6 weeks ahead and for me to confirm that I wanted it. I surprised my wife with the news, and we decided to go for it as a special anniversary celebration.
I've read that certain high-demand restaurants have an arrangement with certain credit card companies to set aside a certain amount of seats for their "concierge" services. I imagine most people never use them. I don't know if someone from Visa Signature really tried to call in every single day, if they have some sort of automated system for snapping up cancellations, or perhaps there is some sort of lottery. All I know is that it worked for me, and it should work for you if you're flexible on dates.
As for the meal, the food and service were excellent, and we don't regret splurging for such a memorable eating experience and Napa Valley trip. We even framed the menu and put it in our kitchen. At the same time, we have no plans to spend $600 on dinner again anytime soon. 🙂