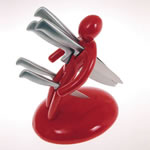 I've been noticing that multiple banks like Washington Mutual, Bank of America, and other banks have been offering me "free" Accidental Death & Dismemberment (AD&D) Insurance. Usually I get around $1,000 to $3,000 of complimentary coverage, just for being a valued customer. Awww, how thoughtful! At first glance, it sounds pretty good. That could cover a few funeral expenses in case I decide to go sky-diving again.
Of course, they are always "proud" to be able to offer you more coverage at a rock bottom price. Additional covered for you is only $1 per month for each $10,000 of coverage. But wait, that makes my $1,000 of free coverage worth…. 10 cents a month Hmm, they must value me a lot to spare $1.20 a year for me…
As you might guess, the price isn't that great. And again it only covers accidental death, so it's not as comprehensive as traditional term life insurance. But it does cover dismemberment, and somehow my morbid sense of humor was amused by the dismemberment payouts. I can just imagine some actuary researching on how many people lose a thumb and index finger on the same hand. Just a thumb? They'll be fine.
100% Benefit
Death 🙁
Both Feet or Both Hands
Entire Sight of Both Eyes
One Hand and One Foot
One Hand and Sight of One Eye
One Foot and Sight of One Eye
Speech and Hearing
50% Benefit
One Hand or One Foot
Entire Sight of One Eye
Speech or Hearing
25% Benefit
Thumb and Index Finger on Same Hand
So, should I bother taking it? I'll probably pass, but it is still free. If I add up all my offers over time I might eventually build up a nice bounty. Probably not worth giving up the personal information needed, though. Anyone else sign up?