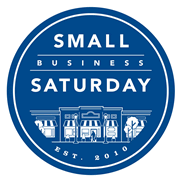 This year, Small Business Saturday will be on November 26th, 2016. Although it was started in 2010 by American Express on the Saturday after Thankgsiving, since 2011 this day has been officially recognized by Congress.
As was the case last year, there will be no flat statement credits in 2016 for shopping at a small business. Instead, American Express is offering double points or double cash back through the end of 2016 for shopping at small businesses from now until December 31st, 2016. You must register here first. Find local, participating small businesses on their Shop Small map.
The 2X promotion works these various flavors of American Express. When you use your enrolled Card at small businesses:
Membership Rewards cards will earn 1 additional Membership Rewards point per dollar spent.
Delta Skymiles cards will earn 1 additional mile per dollar spent.
Blue Cash cards will earn an additional 1% back per dollar spent.
Blue Sky cards will earn 1 additional Blue Sky point per dollar spent.
Hilton Honors cards will earn 3 additional Hilton HHonors points per dollar spent.
Starwood Preferred Guest cards will earn 1 additional Starpoint per dollar spent.
Plenti cards will earn 1 additional Plenti point per dollar spent.
Schwab Investor cards will earn an additional 1.5% cash back per dollar spent.
Rewards cap applies; 2X Rewards valid on up to $100,000 in purchases per enrolled consumer card and $250,000 in purchases per enrolled business card.
American Express has also been adding a lot of new offers – including local small businesses! – to their AmEX Special Offers. Log into your account online and see what you have targeted in your area. You may also see 10% off your cable or Satellite TV bill, 10% off your cellular phone bill, $25 off Verizon Wireless, $20 off $100 at Staples.com, or double/triple points at merchants like Amazon, Target, and Home Depot.
If you have a small business and accept American Express but aren't shown on on their Shop Small map, here's how to get yourself added:
Please contact the Shop Small Team at 1-800-235-8916, Mon-Fri 9am-6pm, EST and have your federal tax ID handy. We look forward to hearing from you!
Participating small businesses can also sign up for additional marketing materials here.
This Fortune article discusses the positive impact that American Express's statement credits from 2010-2014 had on small businesses after the 2009 recession. It felt good that this promotion supported independent retailers, whereas most promotions go towards the big chains. Small Business Saturday was also a clever way for American Express to tell the public that they've increased acceptance of their cards at small businesses, which has always been their relative weak spot due to their slightly higher fees for the merchant.
—
Original post from Small Business Saturday 2014:
American Express has confirmed that they will bring back Small Business Saturday (SBS) on Saturday, November 29th, 2014 – two days after Thanksgiving. The significant change this year is that now it is up to three separate $10 statement credits, for a total of up to $30 per eligible card. Details:
Limit three (3) $10 statement credits per eligible American Express Card. To receive the offer, Card Members must register any eligible American Express Card for this offer. Corporate Cards and all prepaid Card products (other than American Express Serve® and Bluebird®) are not eligible.
The number of registrations is limited. Registration opens at 12:00 A.M. MST ("Mountain Standard Time") on Nov 16, 2014 and will continue until 11:59 P.M. MST on Nov 29, 2014, unless the registration limit is reached sooner.
To receive the $10 statement credit, the Card Member must use his or her registered Card to spend $10 or more in a single, in-store transaction at a qualifying small business location on Saturday, Nov 29, 2014.
Remember that authorized users of eligible cards are also eligible for this promotion. Given that it is three separate $10 credits per card, it'll make your live easier if you plan out your purchases ahead of time. Here's my list:
Local grocery stores. There's one where I can find the sunflower seed butter for my kid, and the one with the good raw lasagna.
Local restaurants and coffee shops. Just make sure they take AmEx!
Local doggie bakery. Usually too pricey for me, but a good place for gifts!
Local sporting goods stores and bike shops. Buy some tennis balls, some little things for my bike, etc.
Local hardware stores. These are a dying breed, but there are still some non-Home Depot small business hardware stores in my area.
Local bookstore. Another rarity, but there happens to be one next to a local restaurant we like!
If they sell gift certificates, buy them! If you only want to spend $10, you can say those can make good stocking stuffers. If you would otherwise buy a $25 certificate for a gift, hey that's still 40% off what you would have paid. Also don't be shy about using more than one card at a place. AmEx is paying those $10 credits, not them, so the merchants should still appreciate your patronage.
Other important terms and tips:
Qualifying small business locations appear on the Shop Small Map.
If you don't have anything specific in mind, even gift cards to a local non-chain restaurant, grocer, hardware store, or clothing boutique count.
In all previous years, additional authorized user cards have been eligible for their own $10 credit. (Authorized user cards with AmEx get their own unique card number.) I see nothing that changes that in this year's rules. Many American Express cards offer additional cards for free to authorized users like your spouse, partner, or older children.
Most prepaid cards are not eligible, but American Express Bluebird and Serve cards are eligible. Given that these cards are free to obtain (officially you can only have one or the other, though) this is another path to an additional free $30 of small business patronage in 2014.