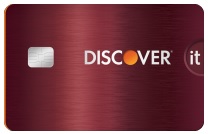 Discover credit cards will work with Apple Pay starting on September 16th, 2015. But the big news is that per this press release, those who pay with their Discover card using Apple Pay from 9/16 to 12/31/15 will automatically earn an extra 10% Cashback Bonus on up to $10,000 of in-store purchases. (Discover it Miles, Miles and Escape cardmembers will earn an extra 10 miles per dollar on up to $10,000 of in-store purchases.)
"We are excited for Discover cardmembers to have the ability to use Apple Pay. Rewards have always been important to our cardmembers, and we want to make sure they receive a generous offer for shopping with Discover and Apple Pay," said Heather Roche, vice president of rewards at Discover. "We want to encourage new and existing Discover cardmembers to add their Discover card to Apple Pay with a few simple clicks using our mobile app, take advantage of this 10% Cashback Bonus, and experience the ease and convenience of using Apple Pay."
Works with Double Cashback promotion! 10% of $10,000 of purchases is $1,000. But it gets even better for those already people signed up for Double Cashback in 2015, because Discover has confirmed multiple times via their official Twitter channel that it will double this as well! That makes it up to $2,000 in total extra bonuses, on top of the normal cash back of 5% in rotating categories and 1% on everything else (which will also be doubled at the end of the year). If you want to triple-confirm, click here and start a chat session direct with Discover.
Don't have a Discover card yet? It's not too late. The promo lasts until the end of 2015, so there is time to apply. New applicants of the Discover card through this referral link can get both a a $50 Cashback Bonus after you make your first purchase within 3 months and get the Double First Year Cash Back promotion. The $50 will then be doubled at the end of the year, so if you keep the card open it becomes effectively a $100 bonus. Click on the application link and then on the "See rates, rewards and other info" link and look for the following details in the fine print:
TERMS OF CASHBACK BONUS OFFER: Get a $50 Cashback Bonus after you make your first purchase within 3 months of being approved. Promotional award will be applied within 8 weeks. The promotional award is in addition to the Cashback Bonus earned on all purchases.

Double First Year Cash Back: After the first 12 consecutive billing periods that your new account is open, we will double all the cash back rewards you've earned and apply them to your account in the next billing cycle. You've earned rewards when they have posted to your account by the end of the 12th consecutive billing period. You will not receive Double Cash Back if your account is closed or no longer in the cash back reward program as of the award date. This promotional offer may not be offered in the future. This exclusive offer is available only to new cardmembers.
Additional information.
Here are all the physical stores where Apple Pay is accepted. It's too long to copy-and-paste here, but notable ones include Apple Stores (how about 20% off Apple products?), Babies R Us and Toys R US (stack with their own coupons), BJ's Warehouse, Chevron (20% off gas!), Sports Authority, Staples, Walgreens, and Whole Foods.
The quick and direct method on this would be to purchase gift cards in-store, as this will allow you to time-shift your purchases if you didn't plan on spending $10,000 at those merchants otherwise.
According to the official Discover Twitter account, the 10% bonus will post within two statement cycles.
Apple Pay works in physical stores with iPhone 6, iPhone 6 Plus and Apple Watch, as well as iPhone 6s and iPhone 6s Plus when they come out. You will need to upgrade to iOS 9 (will be released 9/16) and add your Discover card to the Wallet app.
This promotion is so potentially valuable, people without iPhones are trying to figure out if it is worth to buy one just to get in on this promotion. You could also use it as an excuse to upgrade your older iPhone. 🙂 I have read reports that Apple Pay does not require cellular service to work if you have WiFi available, but I haven't yet done the research myself.
This should be quite a profitable promo, will update after I make my first few purchases. I've never used Apple Pay before, I should probably make a practice purchase so I don't mess things up. 😉