The New York Times has come out with another neat interactive tool that provides a sobering count of both how many and what types of your personal information has been exposed to hackers. I like that they break things down as exposing your e-mail address is very different than your Social Security Number.
Half of American adults had their personal information exposed to hackers last year alone. In a recent attack at the federal Office of Personnel Management, hackers stole the most sensitive personal data for 21.5 million people.
I took the quiz and here are my results: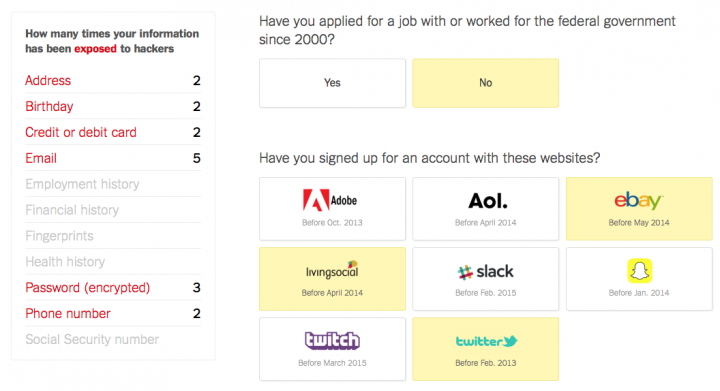 All in all, I would say it could be worse. My credit and debit cards all have "zero fraud liability" and I carefully go through each statement every month. The scariest part is that the worst data breaches will probably occur where you couldn't do anything about it. For example, the recent governmental database breach involved every single person given a government background check for the last 15 years. That hack exposed Social Security Numbers, financial histories, employment records, and fingerprints.
The advice that the NYT gives is to make sure you have different passwords for every website, and to turn on two-factor authentication whenever possible. As I've noted, I use 1Password and I definitely love the feature set but admit it is somewhat expensive. All my accounts now have passwords that look like "j6VQDqa$oE2zYa" and I can access them with a thumbprint on my iPhone. The website TwoFactorAuth.org is a useful database of which sites offer two-factor authentication (2FA). There are still many financial sites that don't support 2FA.