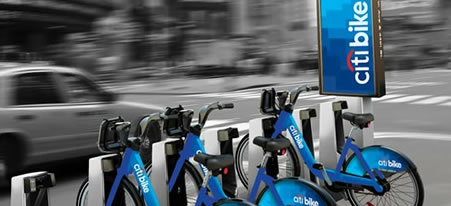 Update: Get a free 24-Hour Access Pass to Citi Bike with any Mastercard, which will get you unlimited short bike rentals (less than 30-minutes to avoid overtime fees) within a 24-hour period. Register by 9/30/13, use by 10/31/13.

This is pretty cool. New York City is launching a bike-share program called Citi Bike this summer (supposedly late July 2012), with 10,000 bikes and 600 stations for pick-up and drop-off. I've seen and used similar bike-sharing programs in Europe, and they seemed to be very practical and moderately popular. I've never ridden a bike in NYC, are there many bike lanes or will you be busy avoiding taxis? Combined with the subway, this makes it even easier to get around without a car.
A 24-hour membership will cost $9.95, but an annual membership is only $95 a year and will allow you unlimited trips of up to 45 minutes. A small fee applies after that to encourage you to return the bike quickly for other people to use.
Citi is the primary sponsor to the tune of $41 million and Mastercard is handling the payment infrastructure in addition to contributing $6.5 million. The program is run privately, with no public funding. I hope it works out.