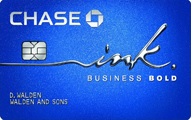 The Ink Bold® Business Charge Card is a premium small business being offered by Chase, directly competing with the biz cards from American Express. If you have a small business including freelance or online eBay/Etsy sales, using a business card allows you to separate your personal and business expenses as well as get some nice rewards in the process. Just to get you to try it out, Chase is offering 500 bucks in the form of 50,000 bonus Ultimate Rewards points after spending $5,000 in the first 3 months your account is open.
50,000 Ultimate Rewards points can be redeemed for $500 cash (real money, via statement credit or check) or 25% extra = $625 when used towards airfare, split up however you like into multiple tickets. If your total is more than $625, you simply pay the difference. I've used this feature and it's very easy and flexible to book airfare using their points (system and prices are like Expedia, Travelocity, etc). Here's an example of combining cash and points:

If you prefer, you can also transfer points to British Airways Avios miles, United Airlines miles, Hyatt hotel points, and Marriott hotel points. 1 Chase point = 1 mile/hotel point for these transfers, so that's 50,000 miles.
You'll also earn up to 5 points per $1 spent on the first $50,000 spent annually on eligible business purchases:
Earn a total of 2 points for each $1 of net purchases made at merchants that classify themselves the following categories: gas stations and hotels stays booked directly with the hotel. (on the first $50,000 spent annually)
Earn a total of 5 points for each $1 of net purchases made at merchants that classify themselves the following categories: wireless/telecommunications services (excluding equipment such as phones and fax machines), cable and satellite television services, office supply stores and wholesale distributors of office supplies. (on the first $50,000 spent annually)
All other purchases will earn 1 point for each $1 of net purchases.
Getting 5X points back at Office Depot, Staples, and Office Max also means that you get 5X points back on the gift cards sold at these office supply stores. This includes places like Home Depot, Lowe's, Kmart, Starbucks, TJ Maxx, and more.
There is no annual fee for the first year, $95 after that if you decide to keep it. You also get a free annual membership in Lounge Club, which gets you 2 complimentary visits to participating "first class" airport lounges each year and discounted rates on future visits. After you get the Ink card, register at loungeclub.com/inkcard. The Ink Bold Business Charge Card is a business charge card where you must pay in full each month after a 30-day grace period with no interest.
Jot business receipt management. Chase has now partnered with Jot, so now I can snap a picture of my business receipts with my smartphone and link it to my card purchases. No more shoeboxes or scanning, and it exports into Quickbooks. I haven't tried this yet, but it sounds like a good backup in case the IRS comes knocking.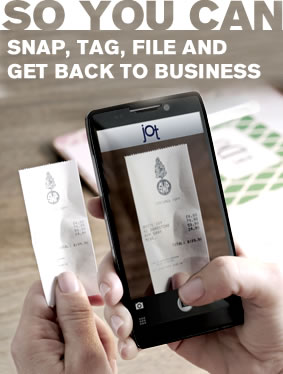 Business Credit Card Eligibility
Many people aren't aware of the fact that they can apply for business credit cards, even if they are not a corporation or LLC. Why? Because any individual can be a business as well. The business type is called a sole proprietorship. Perhaps you sell items on eBay, Craiglist, or Etsy. Maybe you do some freelancing and/or consulting. You might have gotten a 1099 tax form and filled out a Schedule C. Boom! You're a sole proprietorship. This is the simplest business entity, but it is fully legit and recognized by the IRS. On a business credit card application, you should use your own legal name as the business name, and your Social Security Number as the Tax ID.
In addition, Chase business cards won't show up on your personal credit report. Now, this card will require you to personally guarantee that you'll pay them back what you charge on the card, which means they'll check your personal credit score like any other consumer card. However, it won't affect your credit score otherwise, since it doesn't change things like your credit limits, average account age, or credit utilization ratio.
Ink Bold® Business Charge Card Application Link
This card is essentially the small business version of the Chase Sapphire Preferred®Card, a consumer card which offers 50,000 Ultimate Rewards points = $625 in travel) Compare with the other $500+ Bonus credit card promotions currently available.
"Disclaimer: This content is not provided or commissioned by the issuer. Opinions expressed here are author's alone, not those of the issuer, and have not been reviewed, approved or otherwise endorsed by the issuer. This site may be compensated through the issuer's Affiliate Program." 
"The responses below are not provided or commissioned by the bank advertiser. Responses have not been reviewed, approved or otherwise endorsed by the bank advertiser. It is not the bank advertiser's responsibility to ensure all posts and/or questions are answered."