While logging on to my WaMu account I noticed (as did reader Alvin) that the WaMu savings account* is now paying 3.75% APY as of 7/31. Some pages still say 3.30%, but my account details confirm the 3.75% APY. (Login and click on "About this account".) Or, click here and hit Apply Today, and you should see this: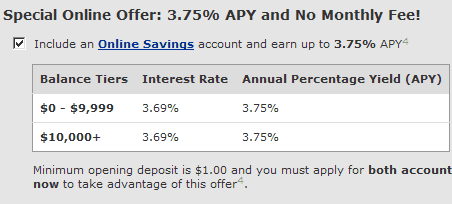 Of course, if you read the news, you'll know that Washington Mutual stock is being battered right now. Is this move a sign of desperation? If so, is this rate increase good news or bad news?
It's All About The FDIC Limits
Well, if you have money over the FDIC insurance limits of $100,000 per titled account, I strongly suggest you stop reading right now and spread it out immediately. Your money is at risk. Here are some good options.
If you are under the limits, then your money is safe. The main things left to worry about are (1) easy access to money, (2) crediting of current interest earned, and (3) future interest rates. But hey, we already have two examples of struggling banks that give us an idea of what we might be in store for.
IndyMac Bank CD Example (FDIC takeover)
I believe that IndyMac failed on a Friday, and branches were closed that day. Over the weekend, branches were closed and the website was down. ATMs and debit cards still worked. By Monday, all the branches were open and the website was back up. Direct deposits, electronic transfers, and written checks went through uninterrupted.
All interest earned in accounts (under the limits) was still credited. Before the failure, IndyMac Bank also had some high interest rates on certificates of deposit (CDs). Upon takeover by the FDIC, an ideal scenario actually happened. For one, you had the option to withdraw your money from a CD with no early withdrawal penalty. Or, if you liked the rate, your CDs could continue to earn the same interest until maturity. This is an even better deal than if IndyMac stayed intact.
Countrywide Example (Bought by Bank of America)
Another struggling bank, this time merged with another existing bank. Currently they are still separate websites, with their own interest rates and products. Nothing really changed from the customer's point of view. There was no downtime, or lost liquidity. You use the same checks, same debit cards, same website. CD rates and other terms remained the same. A slight bonus was that Countrywide customers could now withdraw money from Bank of America ATMs with no fees. [Merger Info]
So, Will WaMu Fail?
I have no clue. My PTI-style Toss-Up Percentage: 25% Fail, 75% No Fail. But even if it does, given it's size, I can't see it disappearing overnight like a small local bank might. It would have to be taken over by another (probably large) bank. In addition, there are so many moving parts that it will probably keeping run as-is for several months even if it does get taken over.
Taking all this into account, I will be sticking with Washington Mutual and happily take the increased interest rate.
* Reminder: This 3.75% rate is only available if you apply online and open a Free Checking account at the same time. If you go into a physical branch, they will deny deny deny! However, after opening you can use it at a branch just like any other savings account. More details.