Updated 2015. American Express has a banking division called Personal Savings through their FDIC-Insured bank American Express Bank, FSB. There are currently just two products – a high yield savings account and certificates of deposit. This is a review from my own experiences with the American Express Personal Savings Account. You don't need to have an American Express credit or charge card to open a bank account with them.
The Basics
The savings account has no minimum balance requirement, no inactivity fees, and no monthly fees. Their current interest rate is 0.90% APY (as of 4/13/15).
As with all savings accounts, the rate is subject to change. Their rate history for the last few years has been that they consistently pay a competitive interest rate but usually not the very highest. They are usually in the mix with their competitors like Capital One Consumer Bank (0.75% APY) and Ally Savings (0.99% APY as of 4/13/15).
Like those other online savings banks, this one is designed to piggyback onto your existing checking account through online transfers. There are no checks, no ATM cards, and no online bill-pay with this account. If you really want, you can withdraw your money by having them send a check payable to you. Interest is compounded daily, and credited monthly. Interest begins to accrue on the business day the deposit is received, as long as it is by 5pm Eastern.
Application Process
The application process can be done completely online. You provide the usual personal information, as well as the routing number and account number of the checking account you wish to link and fund your account with. There is no minimum opening amount. AMEX Bank will then send two small verification deposits of under $1 to your checking account (and then withdraw them as). They'll also send a verification code to your e-mail address. With this information, you can activate your account and initiate the funding transfer. They'll send you a welcome packet in the mail, but there is no paper to sign or send in.
Website User Interface
In the beginning, AmEx used a 3rd-party backend service but now the entire bank website is hosted at personalsavings.americanexpress.com. Here are some screenshots of my bank account after logging in with some captions (click to enlarge).
The overall interface is pretty minimalist and straightforward. Here is the main page: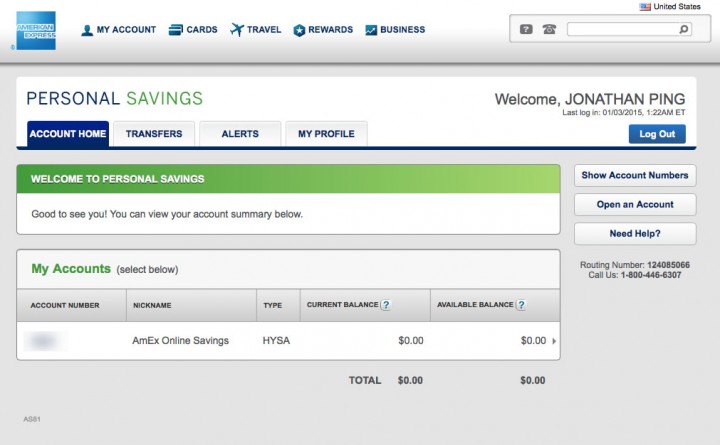 Here is the Transfer tab: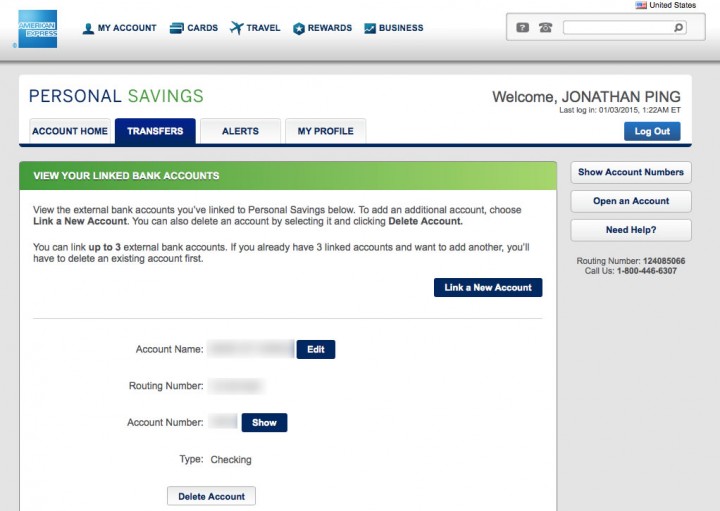 Here is the Alerts tab: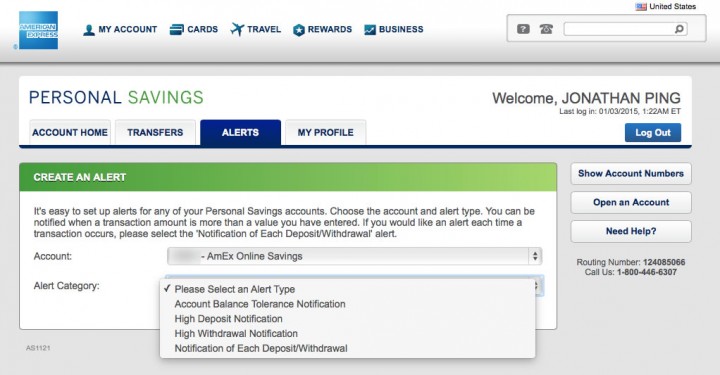 Funds Transfers, Customer Service, E-mail Alerts, and Statements
You can link up to 3 external bank accounts, and you can remove and add accounts online as needed. Online transfers to/from your external accounts take the usual couple of business days to complete. However, I wasn't thrilled about this note on the transfer page: "Funds from electronic deposits to your account that you have initiated through us will generally be available for withdrawal on the sixth business day after the deposit is initiated." This is likely for protection against fraud, but could be inconvenient and discourages me from using this account as a central transfer hub.
Customer service is available by phone only – no secure online message or live chat. Call 1-800-446-6307, available 24/7. Although you have to navigate the usual phone tree, once you do reach a human they are as courteous as the reps from AmEx credit cards, which is to say very courteous.
You can set up free, automated e-mail alerts in case of your balance reaching a certain threshold or the arrival new deposits and/or withdrawals. Text messages are not directly supported but you can usually find an e-mail version of your cell number (ex. 5551234567@txt.att.net).
Finally, one unique thing about American Express Personal Savings is that they give you free paper, snail-mail, monthly statements. Many online savings accounts only include you electronic statements and will charge you for paper statements. Of course, you can opt out and just stick to e-statements, but I can see paper statements as being attractive for some folks. A commenter below noted that if you elect paper statements, then AmEx limits the amount of transactions you can view online to the last 30 days.
Other Handy Stuff
American Express Bank, FSB Routing Number: 124085066
Customer Service: 1-800-446-6307, available 24 hours a day. I haven't had to call in yet, but American Express does have good customer service on their credit cards in my experience.