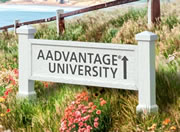 American Airlines has a another easy trivia game where you can earn 1,000 free AAdvantage miles. You'll also be entered to win two First Class round-trip tickets to anywhere they fly.
Just watch some videos and answer some questions about their program… and you can skip to the last 5 seconds of each YouTube video if you wish. (I had some problems skipping past the videos on Safari, but Chrome worked fine.) The questions are pretty easy to figure out, although they seem to vary. Here are the ones I got with answer hints:
Exploring your account, you can do… all of the above.
Not an Elite level… iron.
Most people redeem miles for… flights.
Dining rewards are from…. dining.
Earn miles from Citi credit cards on… all of the above.
American flights daily… 6,700.
A one-time maximum of 1,000 AAdvantage bonus miles can be earned per AAdvantage member. Additional bonus miles cannot be earned by watching the videos more than once. Your bonus miles earned will be saved upon completion of registration. If you leave before registering, you will have to start over when you return.
Miles will post within 8 weeks after promotion ends. AA miles currently expire after 18 months of inactivity. I just earned 1,000 miles each for my wife and I, for a total of at least $20 of value in 6 minutes. Not too shabby.