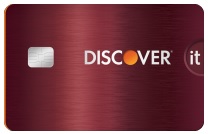 If you have a Discover with cash back rewards, you can redeem them to buy eligible items at Amazon.com. The redemption rate is $1 in Cash Back Bonus = $1 to spend at Amazon, which is the same rate as their statement credit redemptions. Here is a promotion where you can get $10 off a $30 Amazon purchase when you redeem at least $0.01 in Discover cash back. The promotion may not work for everyone, but it worked for me and I've usually done every other promotion. Via SD:
Click here to link your Discover Cashback points balance to your Amazon account
Click here to activate the promotion on your Amazon account (eligibility will vary)
Add $30 or more of eligible products sold and shipped by Amazon.com to your shopping cart
Proceed to checkout & select your Discover Card as your payment method
Select the amount of Discover Cashback Bonus Points you would like to use for the purchase (must use at least 1 point or $.01)
$10 off $30 discount will be applied to qualifying items at checkout
This is nice perk for existing Discover cardholders, which is why I never cancel a card with no annual fee. Check out my Discover it credit card review to see how new applicants can get double cash back for the first year, meaning 10% cashback on their quarterly categories like gas, groceries, and Amazon (and 2% cash back on everything else.)
Open to purchase suggestions? I would recommend replacing the AA (and AAA) batteries in your life with Panasonic Eneloop AA (and AAA) NiMH versions. I have been trying out the various other NiMH battery brands, but while AmazonBasics and EBL get decent reviews and are certainly cheaper, they tend to go completely dead on me (won't recharge anymore) after 10-30 recharge cycles. I have Eneloops that are years older with 100+ recharge cycles and they still work fine. Panasonic Eneloops are simply the best quality (read up on them) and the reliability and longer life is definitely worth the price premium in my opinion.