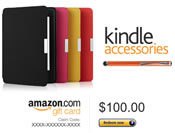 Amazon has a special Kindle promotion where if you buy a certain amount of Amazon gift cards, you'll get up to 20% back towards qualifying Amazon Kindle accessories in the form of a promotion code (i.e. coupon code). The key here is that "Amazon.com Kindle Accessories Gift Cards" work exactly the same as any Amazon gift card. The offer page reaffirms that you can use them on "Kindle Accessories as well as millions of other items on Amazon.com".
This is the same fact that allows people to buy Amazon Kindle gift cards at the grocery store for 6% cash back and use them online towards anything at Amazon.
Buy $50-$99.99, get back $10 via promo code
Buy $100-$499.99, get back $20 via promo code
Buy $500 or more, get back $100 via promo code
You must make your purchase by 3/14/13, and you'll get the promo code by 4/1/13. The promo code is only good towards an unknown list of "qualifying Amazon Kindle accessories" which are sold directly by Amazon. If you already spend this much at Amazon and have a Kindle accessory you want in mind, then front-loading your purchases to get up to 20% back/$100 in "free" Kindle gear may be worth it. Make sure you spend exactly $50, $100, or $500.