Here's yet another retirement rule-of-thumb, this time by Fidelity Investments.
[…] the average worker may replace 85 percent of his pre-retirement income by saving at least 8 times his ending salary. In order to reach the 8X level by age 67, Fidelity suggests workers have saved about 1 times their salary at age 35, 3 times at age 45, and 5 times at age 55.
As usual, these number are based on a long list of assumptions. Start saving at age 25, retire at 67, nice gradual income growth, nice gradual portfolio growth, and so on:
The company's 8X savings guideline is based on a hypothetical worker saving in a workplace retirement plan, such as a 401(k), beginning at age 25, working and saving continuously until 67, and living until 92.

• The employee will make continuous annual salary contributions to a workplace plan beginning at 6 percent and escalating 1 percent per year until 12 percent, plus receive an ongoing 3 percent annual employer contribution during their career.
• The calculation assumes a lifetime hypothetical average annual portfolio growth rate of 5.5 percent.
• Social Security payments are factored into the replacement income ratio of 85 percent.
• The employee's income grows by 1.5 percent per year over general inflation with no breaks in employment or savings.
Focusing on the positive, these age-based targets are meant to be more helpful when setting goals than big, scary numbers. Also, these rules reinforce the idea that starting early is very important as it gives compounding time to work.
But again, we see the same-old assumption that you will constantly spend a certain % of your working income. Why? The implicit acceptance that spending should be linked to salary keeps you from ever getting ahead. Think about it; Your spending can be completely independent of salary. Instead, you earn more, you spend more, and the hamster wheel goes 'round and 'round: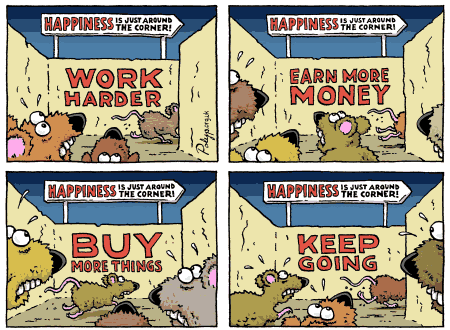 Image credit to
Polyp.org.uk
and FOEI.
The reason why I write is that working 40+ hours a week for 40+ years is unacceptable to me. Retirement rules should be based on your spending, not salary. Salary is important, but your spending determines how much money you need to save. Your spending is also much more under your control than most people admit. 25 times your annual spending; That's my guidepost.