5/29 is "529 College Savings Day", and several plans are offering promotions and/or giveaways through the end of the month. Here is a NY Times article with some helpful information and here is a interactive 50 state map listing promotions. Just putting in $50 every month could add up to nearly $20,000 at the end of 18 years (6% return).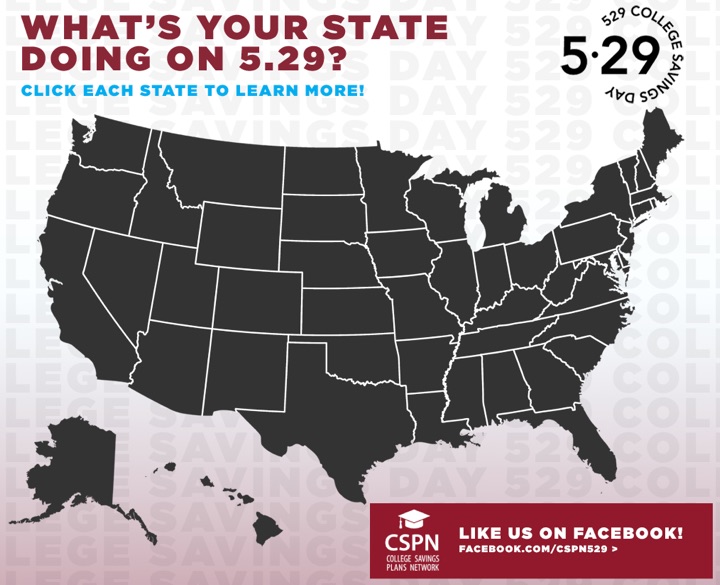 Here are some sample promotions:
California Scholarshare 529 – Bonus expired 6/1/18.
Florida Prepaid – "Open a Florida 529 Savings Plan, from now through June 30, and we'll seed your account with $25. Set up an automatic monthly contribution of $25 or more, and we'll add another $25."
Idaho Ideal – "Open an IDeal—Idaho College Savings Program account online between May 1-29, 2018. Make an initial contribution of $25 or more and we'll add $25 to your account. To qualify for the $25 match, the beneficiary of the account MUST BE age 5 or younger. This special offer is limited to the first 150 accounts opened during this period."
Nebraska NEST 529 – "Get a head start on college savings with a $100 bonus for opening a new NEST 529 College Savings Account. Be one of the first 100 individuals to open and contribute a minimum of $100 to a new account for a child who is eight years old or younger between May 15, 2018 and May 31, 2018 with the Promo Code provided, and receive a $100 Bonus contribution into your new account."
Tennessee TNStars – "In celebration of 529 Day on 5/29, any Tennessee resident who opens a new TNStars account during the month of May will get a $25 match!"
Virginia 529 – "To commemorate this year's special day, we're contributing a $50 match reward to every new qualifying Invest529 account opened from now until May 31, 2018."
Remember, you can open a plan from any state even if you are not a resident (although promotions and state tax deductions may be restricted). Also, you can do a rollover from one state plan into another state plan once every rolling 12 months.