Over the weekend, we signed the closing documents for our refinancing into a 15-year fixed rate loan. It's hard to believe that less than four years ago we bought our first house with a 30-year loan at around 6%. Thanks to additional principal prepayments and lower interest rates, our new monthly payment is actually lower than the payment from our original loan. Our lender sounded swamped with loan applications, and we basically closed on the 45th day of our 45-day interest rate lock. Here are some thoughts about the process.
Mortgage Rates Still Dropping
Here's a chart of the historical mortgage rates, courtesy of HSH.com. It includes the 30-year fixed, 15-year fixed, and the 5/1 30-year adjustable. I've stopped trying to predict future rates, and just try to take advantage of what happens. National averages since 2010: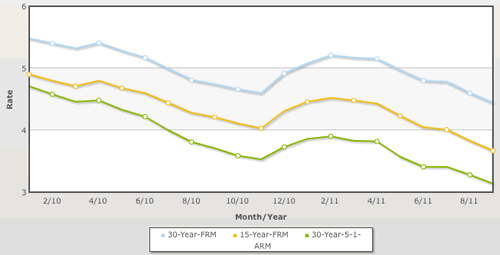 Since 1986: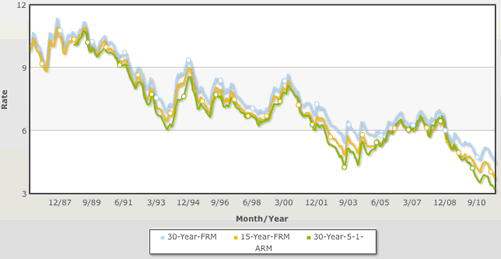 Appraisal
It may be hard to believe, but the new appraisal for our house actually came in at 6% above our purchase price in late 2007. We have made several improvements to the house, including adding a small amount of square footage. But the main reason is simply that the prices in our neighborhood have held up well during the national price declines. Real estate is definitely local. As a percentage of our original purchase price, we have 35% equity.
Closing Documents
The new final HUD-1 settlement forms seemed to be clearer than what I remember last time. Charges are broken down more clearly, and the form compares side-by-side what was presented on the Good Faith Estimate (GFE) and what you were finally charged at closing. You can view a copy of the form at HUD.gov.
Mortgage Offset Account
Some people prefer 30-year mortgages because borrowing at low rates for a long period can act as a hedge against higher inflation. I personally would rather minimize my interest costs now and worry about higher rates if and when they come along. When the day arrives where I can invest in safe bonds or bank CDs that pay higher rates than my mortgage rate, then I plan on creating a mortgage offset account where I buy those CDs instead of paying down my mortgage. But either way, I'm still not satisfied with a 15-year payoff, our goal is to pay it off in 5-10 years.
Compare rate quotes from and Quicken Loans
.