As predicted in October, the new inflation portion of I-Bonds is 3.12% and the new fixed rate is 1.4%, for a total of 4.52%. This is still lower than what is available via Treasury Bills and online savings accounts, so those of us with older Savings Bonds should really think about cashing them in. But when is the best time to do it? Here how I try to figure it out, and a quick calculator that does it for you.
Should you redeem?
But first, let's make sure you want to redeem. I-Bonds have several tax-advantages:
Interest is exempt from state and local income taxes (although so is T-Bill/T-Bond interest)
Interest can be tax-free for certain educational expenses
You can choose when to pay taxes on it with cash basis reporting (and thus possibly delay until when you are in a lower tax bracket)
In addition, if you have an older I-Bond with a high fixed rate portion, that baby may be a keeper regardless. For example, bonds issued in May 2000 have a fixed portion of 3.6%, which is a great guaranteed amount above CPI inflation. Right now, you'd be earning 3.6 + 3.12= 6.72%. I would keep any bonds with a fixed portion of 3% or higher, and probably get rid of any with fixed rates of 1.5% or below if I was treating the I-bonds as short-term cash holdings.
Yes, I want to redeem.
Okay, so when's the best time to do so? First of all, your I-bonds must be 12 months old. Then, if the bonds are less than five years old, then there is a redemption penalty of the last three months of interest. This is where it can be a bit tricky. Since you lose the last 3 months interest, you'll want to have that loss be during times where you earn the lowest interest, but you also don't want to miss out for too long on great returns outside I-bonds if they exist. Fortunately, right now the numbers make it pretty easy. You'll want to use your penalty on your 1.01% inflation months.
I'm going to use my own October 2005 I-Bonds as an example. The fixed rate on it is 1.2%. Here's is an Excel spreadsheet showing possible redemption scenarios, with each month and the corresponding rate earned during that month.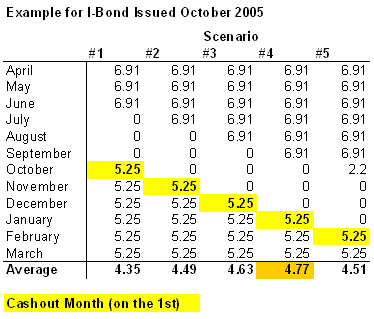 The rates of I-bonds change every six months from your issue date anniversary. So in October 2006 my I-bonds started earning only 1.2 + 1.01 = 2.21%, down from 6.91%. I estimated that the outside return I could get was about 5.25%, just as a general figure. Given all this, It's clear that I want to fit my 3-month penalty during October to December 2006, and cash out the 1st day of January 2007. You want to cash out as early in the month as possible, as you don't earn any more interest until the next 1st of the month.
Made sense? Kinda? Well, don't worry, I won't make you do any of this. I've made a super-easy calculator below that gives you an instant answer. All you need is the fixed rate and issue date of your I-type Savings Bond.
Notes
The calculator assumes that your I-Bonds are less than 5 years old and thus incur a 3-month penalty.
Results will only apply for the next six months or so. (If today is past April 2007, don't use it!)
If you get an answer of ASAP, it means that you should probably cash out your I-Bonds as soon as possible, as the rates will not get better for the near future.
The calculator assumes that you want to cash out, please see "Should I Redeem?" section above.