The Vanguard Total Bond Market Index Fund is designed to track the entire spectrum of US bonds (well, those that are publicly-traded, taxable, and investment-grade). It is the second-largest bond fund out there, with $160 billion in assets and behind only the PIMCO Total Return Fund. It is available to retail investors as a mutual fund (VBMFX/VBTLX) or ETF (BND). If you own a Vanguard Target Retirement or LifeStrategy fund, you own some version of this fund. Let's take a closer look.
Vanguard founder Jack Bogle wrote an article called The Bond Index Fund which talks about how the Vanguard Total Bond Index fund got started and its subsequent performance:
It's now 25-year lifetime rate of annual return averaged 6.9 percent, a nice margin of 1.2 percentage points over the average 5.7 percent rate of return of its taxable peers. That superiority comes despite the Fund's assuming far less credit risk, for the fund (and the bond market index itself) typically hold more than 70 percent of assets in securities backed by the U.S. Treasury and its agencies, including mortgage pass-through certificates. Compounded, the appreciation of a $10,000 investment made at the close of 1986 was remarkable: average actively-managed bond fund $29,900; Vanguard's passively-managed bond index fund, $42,600—an enhancement in profit of more than 40 percent. This stunning advantage once again reaffirms the timeless truism: Never forget either the magic of long-term compounding of returns, nor the tyranny of long-term compounding of costs.
You have to admit, this historical growth chart looks pretty good: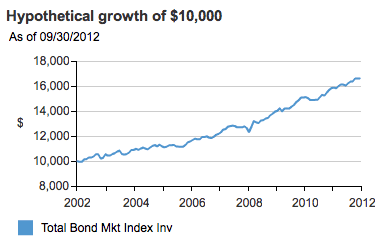 So, what's inside this bond juggernaut? For that, we look at the popular benchmark Barclays US Aggregate index, which started in 1986. As it is a market-cap weighted index, the composition shifts constantly over time. The iShares blog has an illustrative chart: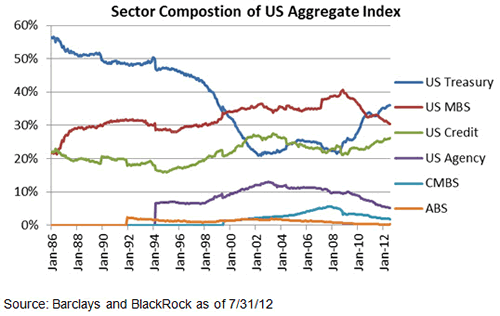 What do all those acronyms mean?
US Treasury. Bonds issued and backed by the US government, including Treasury notes and bonds. (Nominal only, TIPS are not included.)
US MBS. Mortgage-backed securities, backed by residential mortgages and packaged by Ginnie Mae, Fannie Mae, Freddie Mac, and others including private issuers.
US Credit. Securities issued by corporations with investment-grade ratings from the major ratings agencies.
US Agency. Securities issued by a Federal Agency or a government-sponsored enterprise like Fannie Mae or Freddie Mac. These are either explicitly or implicitly backed by the US government.
CMBS. Commercial Mortgage-backed Securities, backed by commercial property mortgage loans.
ABS. Asset-backed Securities, backed by things such as consumer auto loans, credit card debt, and home equity loans.
(References: Wikipedia, Bogleheads Wiki)
Circling back to the Bogle article, he points out that this index is again very heavily weighted towards US government-backed bonds at over 70%. These days, this means the Total Bond Index Funds a really low yield of about 1.6% (as of October 2012). He suggests that we can't ignore the risk of rising rates and we should look into a new Total Corporate Bond Index Fund which would include all the maturities and have an estimated yield of about 3.0%. I find this interesting, as I myself am also avoiding Treasury bonds due to their low yields. In this Reuters article about his personal portfolio, Bogle shares that he holds Vanguard Intermediate-Term Tax-Exempt (VWITX), which currently has the same yield of about 1.6% – but exempt from Federal income taxes! So basically, he's saying it's not a bad idea over the long-term to hold a low-cost, diversified fund of investment-grade bonds with their higher yields. Interesting.
Disclosures: I don't own any Total Bond Index. I do own Vanguard Intermediate-Term Tax-Exempt and Vanguard Limited-Term Tax-Exempt funds as I'm out of tax-deferred space for my bonds. I also own PIMCO Total Return because that's the cheapest bond fund available in my 401k; at least I get access to the cheaper institutional shares.