An important tenet of portfolio construction is diversifying between stocks and bonds. While poking around on Morningstar, I stumbled across a quick real-world example of how this works.
Let's say you had $10,000 back on January 1st, 1993. Now, let's see how that money would have grown over time until today (August 9, 2013) depending on what you invested it in. That's means holding over a 20-year period – that's 20 years of bubbles, crashes, euphoria, fear, and a constant flow of bold predictions and catchy newspaper headlines.
1. Vanguard Total Stock Market Index Fund, Investor Shares (VTSMX).
Let's say you invested in this huge, popular index fund that passively tracks the entire US stock market. (See What's Inside the Vanguard Total Stock Market Index Fund?) From afar, you may be happy with this chart. But having lived through it, I can say that it was quite a wild ride. People tend to remember the highest value of their portfolio. Your money would have grown to $37,000, only to fall all the way back to $23,000 in the Tech Bubble Crash (a 38% drop). Later, your $46,000 would have dropped 50% all the way to $23,000 during the Housing Bubble Crash. So between 2003 and 2009, your money would have gone nowhere even as inflation rose. Many people went to cash. But if you stuck it out, today you'd be sitting on a balance of $58,621.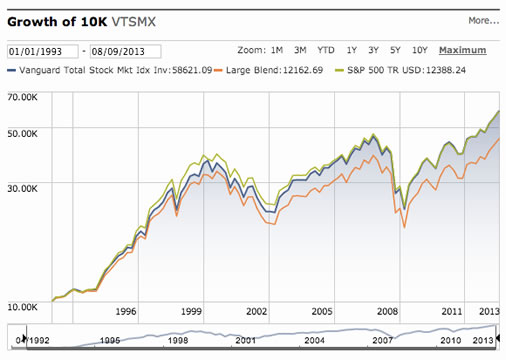 2. Vanguard Total Bond Market Index Fund, Investor Shares (VBMFX)
Now, what if you invested in this fund that tracks the overall US bond market?

(See What's Inside the Vanguard Total Bond Index Fund?) As you can see, your money would have grown rather steadily with no major hiccups. You'd just have to sit back and collect those interest payments, even though from time to time the stock market would be zooming upwards. From 1993 to 2013, your $10,000 grew to a balance of $32,295 today.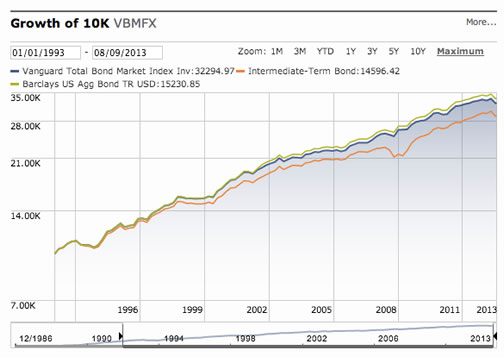 3. Vanguard Balanced Index Fund, Investor Shares (VBINX)
Here's another simple yet elegant creation of Jack Bogle, founder of Vanguard. This fund essentially holds 60% Total US Stock and 40% Total US Bond. Rebalanced regularly. 60% Stocks. 40% Bonds. No active management, no market timing, just 60/40 all the time.
As you might expect, the performance is a mix of the two funds above. From 2000-2003, your balance would have dropped from $26,500 to $22,000 (~17% drop). From 2007-2009, your balance would have dropped from $37,000 to $26,000 (~30% drop). Those are some scary drops, but definitely not as bad as holding 100% stocks. Hopefully, having those valleys smoothed out a bit would make it less likely you bailed out at the bottom. Now, this means the peaks were also smoothed out, but today you'd still have a balance of $49,167.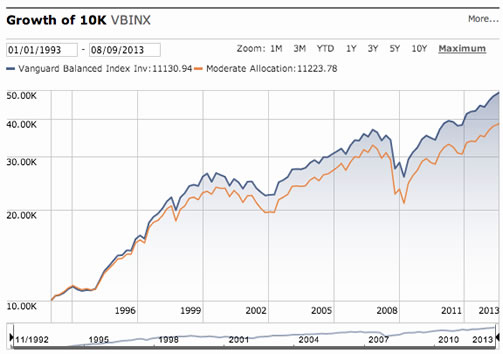 Bottom line. Over the last 20 years, if you bought 100% stocks and held on through it all, you'd have ~$60,000. 100% bonds, ~$30,000. By going with a 60/40 Stock/Bond split and rebalancing regularly, you would have ended up with about $50,000. I think that's a pretty good trade-off. Hopefully, the milder swings would have kept you in the game.
There will always be predictions about the future. Interest rates may rise quickly, rise slowly, or even drop further for a while. This bull market in stocks may keep on going. Or stocks could drop 50% this year again. Nobody knows the future, even if they sound confident. Honestly, right now neither stocks nor bonds look all that promising to me. But I keep thinking long-term and remember the benefit of holding a balance of stocks and bonds (currently about 70/30 stocks/bonds).